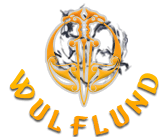 VIKING NECKLACE TERMINALS, Ödeshög, Sweden, Ag 925 - 2 pieces
Very authentic reproduction of a silver viking terminal for necklaces, mainly for Thor's hammers, also available from us. The original jewel was found together with a Thor's hammer in the locality of Ödeshög - Östergötland, Sweden. Can also be used on bracelets, with twisted silver wire or leather braided cords.
Material sterling silver
Size 1 x 2.6 cm
Size of the end opening 4 x 8 mm
Opening in the mouth of the beast 3 x 5 mm
Weight 4 g/ 1 pc 
Price is set for a pair.
Related products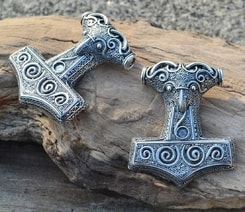 $101.30
Catalogue number: FGJ120
In stock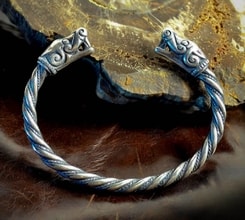 $266.57
Catalogue number: SBR237
In stock
$111.96
$101.30
Catalogue number: FGJ36
In stock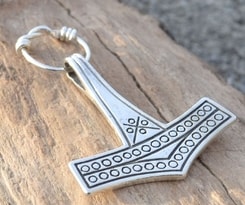 $84.24
Catalogue number: SBR183
In stock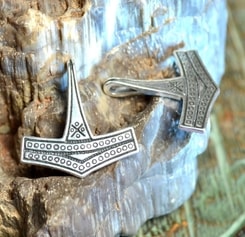 $37.32
Catalogue number: SBR02
In stock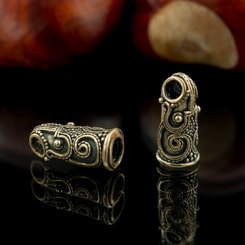 $14.93
Catalogue number: BHJ322
In stock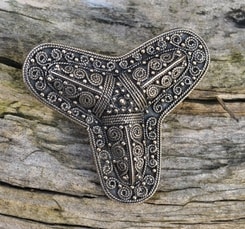 $82.10
Catalogue number: BHJ151
In stock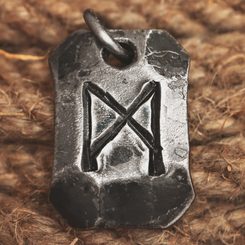 $14.93
Catalogue number: RPE38
In stock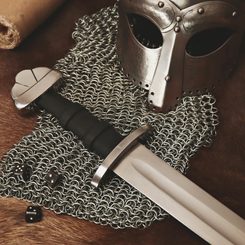 $271.90
Catalogue number: VSW36
In stock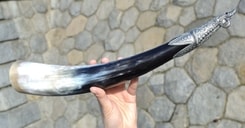 $62.91
Catalogue number: DHO32
1-2 weeks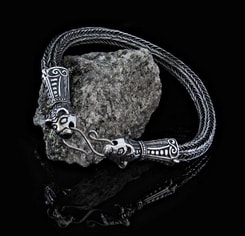 $351.87
Catalogue number: SBR255
5-7 weeks