earrings - historical jewelry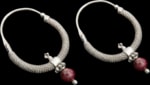 Earrings - historical jewelry
TRIQUETRA Celtic Silver Ear Studs.
material silver
size 1 cm
price per pair
WILD BOAR Sterling SILVER Earrings. Wild boar is, besides birds of prey, the most frequently depicted animal in Celtic art. This logically indicates that it had a special significance in society. The available archaeological and numismatic evidence also strongly suggests that boar hunts may have…
Roman style sterling silver earrings. This design is inspired by a find of an Ancient Roman golden necklace from the 2nd century, the Roman Empire. Material: sterling silver, garnet (almandine) Size: 1.6 x 3.3 cm Weight of sterling silver: approx. 8g (the pair)
ROMAN Empire EARRINGS Replica from the 3rd-4th century.
Material sterling silver
Size approx. 3.6 cm
Weight approx. 5.4 g/pair
Replicas of Sterling Silver ROMAN EMPIRE EARRINGS with Carnelian, the original artefact dating back to the 2nd-3rd century CE. On request we can set the earrings with hessonite, a honey coloured type of garnet. Ancient Romans and Indians frequently used hessonite as they believed it averts evil. …