earrings - historical jewelry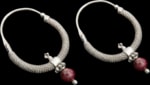 Earrings - historical jewelry
Elegant everyday earrings. They are made of Great Moravian buttons. Stylish and original alternative to dangle earrings. Casted granulation / filigree. Original find: South Russia. X-XI century. Gnezdovo. Material sterling silver Size approx. 1.5 cm in diameter Height including hook approx. 2…
VEGVÍSIR, meaning That Which Shows the Way, is an icelandic magical rune intended to help the bearer find their way through rough weather. If this sign is carried, one will never lose one's way in storms or bad weather, even when the way is not known. Material: sterling silver Size hook…
Replicas of Early Medieval Slavic Silver Earrings from Novgorod.
Material: sterling silver 925
Weight approx. 14 g / pair
Size: 2.8 x 4 cm
Sterling Silver THOR'S HAMMER Ear Studs.
material sterling silver
size 1 x 0.9 cm
weight 2 g
price per pair
TRIQUETRA Celtic Silver Ear Studs.
material silver
size 1 cm
price per pair
WILD BOAR Sterling SILVER Earrings. Wild boar is, besides birds of prey, the most frequently depicted animal in Celtic art. This logically indicates that it had a special significance in society. The available archaeological and numismatic evidence also strongly suggests that boar hunts may have…
THOR'S HAMMER Sterling SILVER Earrings. Thor's Hammer, or Mjöllnir, is God Thor's magical weapon. The hammer is unbreakable, it always hits the target and then comes back to the owner's hand. The hammer flies through the sky in the form of a lightning. The word Mjöllnir means "grinder or crusher".…
Silver Earrings inspired by ornaments featured on Norse, Baltic and Slavic rings and bracelets. Our modern take on historical jewelry. Material: sterling silver Size: 1.3 x 2.2 cm
Silver earrings inspired by early medieval jewels of Slavs and Vikings. The earrings are double-sided and have a lenticular shape. Material: sterling silver Weight approx. 9g / pair Diameter: 1.5 cm
Sterling silver medieval earrings inspired by the Viking and Slavic art style. Material sterling silver Size 1.5 cm in diameter Weight 4 g per pair
Sterling silver Viking earrings.
Material sterling silver
Height 1.6 cm
Weight 4 g per pair
Pair of silver earrings inspired by a historical find from Byzantine, the 9th century. The original earrings belonged to a viking woman. The earrings are light and they fit a lady wearing a historical costume as well as modern attire. Material sterling silver Size: 2.5 x 3.5 cm Weight 7g/pair
A pair of silver earrings. A necklace from Visby, Gotland, Sweden (approx. 1000 CE) served as an inspiration for this beautiful piece of craftsmanship. These earrings are one of our most prestigious products. Each crystal ball is fitted with a silver belt with cast granulation. We have selected the…