pendants - historical jewelry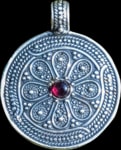 Pendants - historical jewelry
Silver Viking Pendant. Imitation of the original jewel found in Birka, Sweden, the 10th century. The puropse of these pendants was and still is to protect the wearer and repel bad forces, thus its name. Pseudo-Granulation. If you are looking for a unique jewel, look no more! Material: sterling…
This Silver Wolf Torque is handmade by twisting silver rods of different thickness. The  wolf heads on the terminals are inspired by the Icelandic Thor's Hammer - the Wolf Cross. Torque (troq or torc) from Latin torques "to twist" is a common name for all rigid metal neck rings and it has been…
A replica of a Thor's hammer pendant from Erikstorp, Ödeshög, Sweden. Thor's Hammer, or Mjöllnir, is God Thor's magical weapon. The hammer is unbreakable, it always hits the target, and then comes back to the owner's hand. The hammer flies through the sky in the form of a lightning. The word…
Scythian Deer Brooch Replica. The original comes from the 7th century BCE; it was a gold plaque, that was found in the Kuban basin, Rusia, an area where the best works of Scythian art have been discovered. The Scythians used to live in the steepes of southern part of Russia. Material sterling…
An EAR CUFF EARRING inspired by a Slavic artefact. Price per one piece.
Material sterling silver
Size 1.7 cm inner diameter
Weight approx. 2.9 g
Replica of a viking cloak hook that was found in England (9th century). PRICE IS FOR ONE PIECE. Material sterling silver Size cca 1.8 x 5 cm Weight 12 g
Sterling silver Viking Lunula made according to an original find, which was found in Denmark (Moesgaard). Symbol of Lunitsa (or Lunula - little moon) is a female symbol. Such jewels were worn by Slavic and Viking women. It is a symbol of fertility, good luck and a happy life. Material sterling…
The Gomb - a silver Slavic/Viking button or a silver bead for your necklace. Material: 295 silver Size 1 x 1.3 cm Weight approx. 3 g
Pair of silver terminals for Viking pendants such as Thor's Hammers (Mjolnirs). Can be used as end terminals for silver chains or leather cords. The holes in the mouths of the beasts hold pendant hoops. Price is per pair Material sterling silver Length 2.6 cm Weight 5 g/1 piece Diameter of…
Large silver pendant. Reproduction of a pendant from Varba, Sweden.
Material sterling silver
Size 3.4 x 3.6 cm
Weight cca 16 g
Made after a find of a wooden Slavic idol of a four-headed Slavic God Svantovit from Jomsborg - Wollin, Poland).  Svantovit is a Slavic God of war, fertility and abundance. He has four heads to protect you from all sides. Body of this pendant resembles the bark of an oak tree - sacred tree…
Material: silver (925). Size: 2 x 4 cm. Weight: cca 4,2 g.
Probably one of the most interesting Hammers of Thor on the Czech market, in ths case decorated with a garnet. It is inspired by an archeological find from Kabara, kraj Skåne, Sweden. The original is exhibited in the Swedish History Museum. Material: sterling silver, garnet Size: 4 x 5 cm Weight…