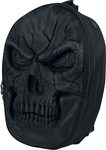 WOLF WARRIOR Cloth Bag.
Material: linen
Size: 35 x 40 cm
Linen Cloth Bag with PERUN, the mightiest of all Slavic Gods, invincible warrior, the creator of thunder and lightning. Perun maintains order in the Universe, grants victory in battle and protects the state and its rulers. Of all the gods, he has the closest relationship with the mankind, and…
BOHEMIA Tote Patriotic Bag.
Material: linen
Size: 35 x 40 cm
TREE OF LIFE Tote Bag. Tree of Life and trees in general carry a deep sacred meaning in many world religions and mythologies. Human beings, observing the growth and death of trees, and the annual death and revival of their blooms and foliage, have often seen them as powerful symbols of growth,…
HERNE, The Guardian of the Forest, T-Shirt.
Detailed design
Quality print
Manufactured by Naav fashion brand
Printed in the Czech Republic
Exclusive hand-made and two layered sewn belt of hard leather with silver (925) belt buckle and studs. Designed by Wulflund. This belt is designed for modern wearing (but with ancient spirit) for exacting customers. All used silver designs are replicas (buckle from the area of the old Balts, studs…