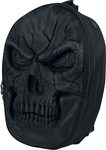 Leather Heavy Metal Music Wristband with Thor Hammer (Sweden). Price is for one piece. Length cca 27 cm. Max. width cca 5.8 cm. Size of the Mjolnir: 2.5 cm.
ODIN Cloth Bag.
Material: linen
Size: 35 x 40 cm
FENRIR Cloth Linen Bag.
Material: linen
Size: 35 x 40 cm
Vegvísir Tote Bag. Vegvísir, "That Which Shows the Way", is an icelandic magical symbol intended to help the bearer find their way through rough weather. "If this sign is carried, one will never lose one's way in storms or bad weather, even when the way is not known". Material: linen Size: 35…
LEATHER Wristband with Thor'S Hammer aka Wolf Cross, inspired by an artefact from Iceland. On their raids Vikings also reached Iceland and brought with them unique Thor's Hammer amulets. One of them is the so called Wolf Cross, a cross like shape with a wolf head. Material leather Length approx.…
LEATHER Wristband with three Thor's Hammers, inspired by Viking artefacts from Sweden. Fine leather on the reverse for more comfort. Material genuine leather, pewter Length approx. 27 cm Max. width approx. 5.2 cm Size of large hammer 4 cm Designed and made by Wulflund
Hand made leather cuff with forged iron talisman so called TROLL CROSS. Size of the cuff: 5.3 x 25 cm. The Troll Cross is an hand-forged amulet made of iron in a shape of an Odal Rune. It was worn by Scandinavian peoples as a protection against Trolls. Very original talisman.
Exclusive hand made leather belt bag for standart size of the wallets. Material: hard leather and silver buckle (replica from Norway, Borre style, 10th century, weight circa 14.7 g, silver 925) and three silver buckle (9.9 g, silver 925, also replica from Norway). For modern use. Size of the bag…