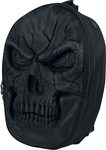 Leather Heavy Metal Music Wristband with Thor Hammer (Sweden). Price is for one piece. Length cca 27 cm. Max. width cca 5.8 cm. Size of the Mjolnir: 2.5 cm.
ROCKER, leather bracelet.
Rock and Metal fashion
Material: metal and leather
LEATHER Wristband with Thor'S Hammer aka Wolf Cross, inspired by an artefact from Iceland. On their raids Vikings also reached Iceland and brought with them unique Thor's Hammer amulets. One of them is the so called Wolf Cross, a cross like shape with a wolf head. Material leather Length approx.…
LEATHER Wristband with three Thor's Hammers, inspired by Viking artefacts from Sweden. Fine leather on the reverse for more comfort. Material genuine leather, pewter Length approx. 27 cm Max. width approx. 5.2 cm Size of large hammer 4 cm Designed and made by Wulflund
Hand made leather cuff with forged iron talisman so called TROLL CROSS. Size of the cuff: 5.3 x 25 cm. The Troll Cross is an hand-forged amulet made of iron in a shape of an Odal Rune. It was worn by Scandinavian peoples as a protection against Trolls. Very original talisman.
Hand made leather cuff with the Celtic Knot of Life (pewter talisman). Size of the cuff: 1.9 x 23 cm. Handmade in the Czech Republic (our design). Adjustable length.