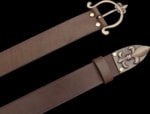 A wide leather belt with a forged buckle. Suitable for everyday use.
Material: iron, genuine leather
Sizes: 150 cm × 4 cm
A belt featuring a Celtic buckle. Celtic (La Tene) belt buckles were usually very simple. The buckle on this belt is an exact replica of a Boii belt buckle from Oppidum of Stradonice, the Czech Republic. This was one of the largest Celtic settlements in Central Europe with an area of…
An Iron Age ladies belt with an iron forged buckle.
Material: iron, leather
Size of the twopartite buckle: 15 × 3.5 cm
Size of the belt: approx. 160 × 2 cm
A belt made of a thick high quality leather. The Celtic style buckle is included. The belt is made in our leather workshop ready-to-order so please let us know your waist size. Material: pewter, leather Width: 4 cm