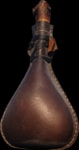 Stainless Hip Flask in Leather Cover with Bronze Celtic Deer ideal for whiskey. Material: stainless steel, leather, bronze Volume: 0.24 l
Stainless Steel HIP FLASK in Leather Cover with Scottish Thistle ideal for Scotch.
The LEATHER BOTTLE. Volume cca 1.5 L. This product is made by the same technology as it always used to be in the past - inner surface is covered by wax. Because of European strict hygienic laws and rules we sell this item as a decoration.