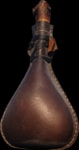 Stainless HIP FLASK in Leather Cover with Valknut. The Valknut (pronounced "VAL-knoot") is one of the most widely-discussed yet enigmatic of all of the Norse mythological symbols. It appears on several runestones and pictorial memorial stones from the Viking Age on the Swedish island of Gotland, as…
Stainless Steel HIP FLASK in Leather Cover with Scottish Thistle ideal for Scotch.
The LEATHER BOTTLE. Volume cca 1.5 L. This product is made by the same technology as it always used to be in the past - inner surface is covered by wax. Because of European strict hygienic laws and rules we sell this item as a decoration.