whips, books covers, other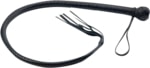 Whips, books covers, other
Celtic God Cernunnos - Book in leather case (handmade binding) with 100 pages.  Size: 16 x 22 cm. Product of Wulflund.
Hand crafted leather book case with the CELTIC MOTIVES . Size approx. 16 x 22 cm. Manufactured in the Czech Republic.
Custom made dog collar for your pet. Hand made collar is padded for comfortable wearing, it is possible to change motives, colour, we can add metal ornaments. Always let us know required measuremets.