craftsman tools, acessory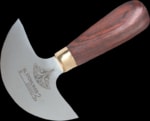 Craftsman tools, acessory
A lucet is a tool used in cordmaking or braiding of materials in clothes manufacture. Historians believe this tool dates back to the Viking and Medieval periods. Size: 5 x 14 cm. A video on how to lucet: https://www.youtube.com/watch?v=kh3l85F9LAE
A fully functional Stitching Horse Bench. This bench will be delivered dismantled.
DUE TO THE SIZE ONLY COURIER SHIPPING IS POSSIBLE.
Size approx. 45 x 18 cm, 5 cm high.
Hand made rope. 8 mm in diameter.
100 % cotton slow matchlock. 8 mm diameter. Price is for 1 m.
HEMP ROPE is universal accessory for many purposes of your re-enactment.
Hand forged leathercraft tool that you can use since Iron Age. Size approx. 14 cm.