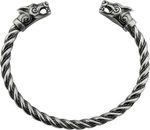 Grooved Bronze Bracelet, inspired by Early Medieval Scandinavian finds. Material bronze Size 7.1 × 5.6 cm Wrist circumference 17 cm (6 1/2″)  Weight 28 g
Viking Dragon Jelling Bronze Bracelet. Norse mythology contains several references to dragons, the most popular is Níðhöggr, the dragon which gnaws the roots of Yggdrasil, the immense mythical ash tree that connects the nine worlds in Norse cosmology. The bracelet can be adjusted and is…
Viking Wolf Fenrir Bracelet featuring the mythological Norse wolf inspired by an original bracelet found in Burg, Gotland, Sweden. The head terminals are based on the Wolf's Cross from Iceland. Material: brass
Beautifully Crafted Polished Bronze Bracelet with Celtic motifs.
Material: bronze
Width: 8 mm
Hand Twisted Brass Bracelet with Celtic Deer. The bracelet can be adjusted and it is very comfortable to wear. Material: brass The size of the terminal: 25 × 13 mm
Celtic Cat Bronze Bracelet. Designed by south Bohemian artist Kati. material bronze weight and measurements depends on the size
Collach Pictish Boar Bronze Bracelet. The design is based on the rock carvings in Dunadd,Scotland. Wild boar is, besides birds of prey, the most frequently depicted animal in Celtic art. This logically indicates that it had a special significance in society. The available archaeological and…
Jörmungandr Viking Bronze Bracelet. According to Norse mythology water snake of the same name, also known as Midgardsormr, meaning gigantic beast, poses a great threat, so the God Odin throws him into the ocean. But the serpent grows so large that it is able to wrap around the Earth and grasp its…
Dragon Draig Bronze Bracelet with Beast Terminals. Draig is a Welsh name for dragon.
material bronze
terminal size 24 mm
Viking Bracelet with Bronze Terminals in the Borre art style.
material bronze, leather
weight varies depending on the size
Viking brass bracelet. Inspiration: archaeological  find from the locality of Burg, Sweden.
Dreki Brass Viking Style Bracelet. Design is inspired by the Jellinge Viking art style. Similar dragons can be seen on brooches, rune stones and wooden items. Designed by Kati. material brass terminal size 25 mm size varies depending on the wrist size, on average 41 g
Brass Viking Wolf Bracelet. The design is inspired by a bracelet found in Burg, the isle of Gotland, Sweden, the head terminals are based on the terminals of the Wolf's Cross from Iceland. A beautiful piece of art reflecting history. Material: brass Size of the head: approx. 20 × 10 × 10 mm
Viking CROW Brass Bracelet with Raven Heads. The design is inspired by the Bamberg Casket dated back to cca 975 CE now exhibited in the Bavaria National Museum in Munich, Germany. material brass Terminal size 21 mm Weight on average 30 g
Celtic Cat Brass Bracelet. Designed by South Bohemian artist Kati. material brass
Collach Brass Bracelet with Pictish Boars. The design is inspired by the rock carvings in Scotland (Dunadd) created by the Picts sometime during the Late Iron Age and Early Medieval periods. Boar was revered, especially by the Celts, for its strength, perseverance and courage.
Hand made Braided Bracelet with Snake Heads. We also sell torques of the same design.
Material: brass
Terminal size 26 mm
Weight varies depending on the size
VIKING WOLF Bracelet inspired by a real archeological fiind on the isle of Gotland, Sweden, locality of Burg. The original was crafted by twisting metal rods of various widths and it features stylized wolf or dragon heads.  Please include the size of your wrist in your order. We will make a…
VIKING SHIP with Runes Bronze Bracelet.
material bronze
diameter approx. 6 cm