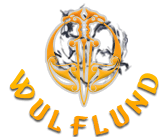 DAŽBOG, Slavic God of Sun, figure
DAJBOG - The Giving God. Dajbog is one of the sons of Svarog, the Sungod, the one who gives light, rain and fertility – everything that is good. The Slavs believed that Dajbog travels the heavens every day in a magical quadriga yoked with four white horses with fiery manes and golden wings, and that the sunlight comes from the fiery shield that Dajbog carries with Him. At night he would die and go to the Underworld, in order to be resurrected in the morning. Also, it was believed that Dajbog spends summer months in our, real world, giving us Sun, while in the winter he goes down into Nav.
He had a magnificent posture, beautiful golden hair and sky blue eyes nothing could be hidden from. Serbs would represent Dajbog as a quiet, gentle and good-natured old man with white hair and beard, with a jerkin around his shoulders and with a rod in his hand. It is believed that he was the incarnation of the white wolf, our mythical ancestor and the supreme god from the ages of animism, so the wolf was his faithful companion.
About sculptures:

These figurines are the original work of Serbian sculptor Jovan Petronijevic and they are a part of the unique chess set inspired by Slavic mythology, but you can have them separately, as a beautiful and original souvenir. Made of resin, hand painted and patinated, 13 cm high. Each has it's own original packaging.