GROMOVITI ZNACI - hair brooch
GROMOVITI ZNACI - hair brooch
Hand carved leather hair brooch with old Slavic symbol - Gromoviti znaci (Thunder marks).
Gromoviti znaci - these are the symbols that are most often assoiciated with God Perun. Particularly the Eastern Slavs were the ones, who carved the symbol on the wooden beams under the roof, and believed, that this divine symbol will give them protection against lightning.
In modern conception, this amulet is considered one of the symbols of Slavic unity - it shows people holding hands around a central fire. A unity of the family, the tribe, the Slavic people... 
Size: 4,5 x 10 cm.
Share:
Tweet
Related products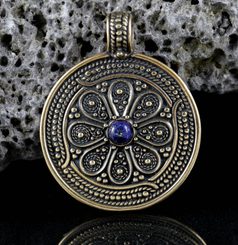 17.00 €
Catalogue number: BHJ70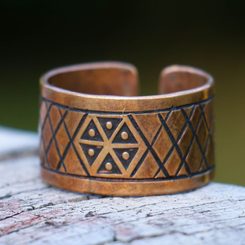 18.00 €
Catalogue number: BHJ197