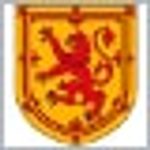 Collach CELTIC BOAR Silver PENDANT. Wild boar is, besides birds of prey, the most frequently depicted animal in Celtic art. This indicates that it had a special significance in society. The available archaeological and numismatic evidence also strongly suggests that boar hunts may have played an…
COLLACH CELTIC BOAR Silver Pendant. Wild boar is, besides birds of prey, the most frequently depicted animal in Celtic art. This indicates that it had a special significance in society. The available archaeological and numismatic evidence also strongly suggests that boar hunts may have played…
Medieval Dagger made of quality high carbon spring steel. material 54SiCr6 steel case hardened 52-53 HRC overall length 33.5 cm blade 21 cm blade is blunt, we can deliver sharp on request manufactured by Wulflund
Left-handed Dagger suitable for fencing.
total length 53 cm
blade length 39 cm
guard width 19 cm
width of blade at the guard 3.5 cm
weight 940 g
Bronze Crow Pendant with a Newgrange spiral. Celtic Godesses Badb, Macha and Nemain are associated with crows and ravens, as well as with Nantosuelta, the Gaulish Water and Healing Goddess. Newgrange in Ireland is over 5.000 years old prehistoric monument North of Dublin, that predates the…
Stage and Sport Combat Replica of a Medieval Dagger. Material: spring steel 54SiCr6  Hardness approx. 50 - 52 HRC Sword by Wulflund
Combat Gauntlets. One pair of high-quality gauntlets that are fully usable in battles. 1.0 mm thick steel., leather gloves are not included in price. Hand made in the Czech Republic. Our Bestseller.
Medieval Dagger made of quality high carbon spring steel. material 54SiCr6 steel case hardened 52-53 HRC overall length 33.5 cm blade length 21 cm blunt blade, can be delivered sharp on request
Silver Ring with Cat Heads. Material sterling silver Weight varies depending on the size, approx. 4 g Slightly adjustable Designed by Kati
Hand Made Viking Helmet for re-enactor's and collectors featuring double protection of the top of the helmet and decorated face as well as: raised edges for eyes for better deflection of strokes convex nasal and frontal head stripe parts of helmet (fields) are tempered and hardened  helmet…
Battle Ready Replica of a Crusader Dagger. material: spring steel 54SiCr6, hardness approx. 50 - 52 HRC overall length: 54 cm blade length: 39 cm width of guard: 14 cm sword by Wulflund
Overall length cca 45 cm
Blade length cca 30 cm
Riveted pommel
Medieval Dagger made of quality high carbon spring steel. Material: 54SiCr6 steel Case hardened: 52-53 HRC Overall length: 33.5 cm Blade length: 21 cm Blade is blunt, we can deliver sharp on request Manufactured by Wulflund
Medieval Dagger with Pommel and Leather Hilt. high carbon spring steel 54SiCr6 case hardened to 52-53 HRC overall length 33.5 cm blade length 21 cm blade BLUNT, we can deliver SHARP on request manufactured by Wulflund
Hand made viking helmet for re-enactment and training. Manufactured by Wulflund. Double protection of the top of the helmet Material thickness 2 mm Aventail length 20 cm, riveted chains 8 mm in diameter, 1.2 mm thickess wire, round cross section Always use a padded lining
Hand Made Viking Helmet with Matt Finish for Reenactment and Collectors. Double protection of the top of the helmet Material thickness 1.5 mm for decoration, theatre; 2 mm for reenactment Always use a lining
Hand Made Viking Helmet for Reenactors.   Double protection of the top of the helmet Face decorated by hammering Material thickness 1.5 mm for decoration, Theatre; 2 mm for reenactment Always use a lining Can be supplied with Reivetted Chainmail and lining for extra surcharge
Baldur Hand Made VIKING HELMET with Brass Decorated Face for Reenactors and Collectors.  Double protection of the top of the helmet Decorated face Material thickness 1.5 mm for decoration, theatre; 2 mm for reenactment Always use a lining
Drinking horn with a boar. We choose the most interesting horns in shape and color. Tin decorations from food safe tin are handmade. Treated with food safe varnish. Material cow horn, food safe pewter Volume 0.4 l
Drinking horn with a roe deer. We choose the most interesting horns in shape and color. Food safe tin decorations are handmade, horns are polished and treated with food safe varnish. Material cow horn, food safe pewter Volume 0.4 l