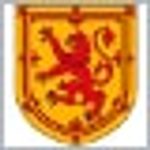 Our handmade Knife in Leather Sheath with Leather Handle uniquely combines knife making and leathercraft. Spring steel body is dressed in stitched leather to form a luxurious tactile grip. This compact knife is designed for those who appreciate nice design and good quality. Material: 54SiCr6…
Set of TWO SHOT GLASSES crafted from so-called forest glass. Each piece is slightly different, the set is hand made in a family glassworks. Forest glass is late medieval glass produced in northwestern and central Europe between cca 1000–1700 CE. It used to be made in forested areas and it is…
Hand Forged Medieval Bearded Axe featuring:  material high carbon spring steel blade, wooden shaft, leather BLUNT/SHARP blade with round edge case hardened for re-enactment practice size of head 16 x 19 cm shaft approx. 55 cm long excellent product of Arma Epona smithy (Czech Republic) you can buy…
Reproduction of a Celtic sword with an anthropoid hilt, discovered in 1902 at North Grimston, Ryedale district, North Yorkshire, UK. The sword was found in the grave of a Celtic warrior, along with a shield, a second sword, and a joint of pork (Hull and East Riding Museum). Decorative sword…
Celtic SWORD or DAGGER Reproduction with Human Body Shaped Bronze Hilt. The original artefact was discovered in 1902 at North Grimston, North Yorkshire, UK, in the grave of a Celtic warrior, along with a shield, a second sword, and a joint of pork. Material: bronze, 54SiCr6 steel Overall length:…
Hand Forged Celtic Knife with Decorated Leather Sheath inspired by Celtic artefacts from European Iron Age settlements - oppida. Hand forged in Bohemia (land of Boii tribes) by Wulfllund. material: spring steel 54SiCr6, high quality cowhide overall length: 30 cm blade: 16 cm blade thickness: 4…
Hand forged statue of a really disgusting spider :) Width: 20 cm. Material: steel, black anti-rust finish. Hand forged in the Czech Republic.
Medieval Dagger made of quality high carbon spring steel. material 54SiCr6 steel case hardened 52-53 HRC overall length 33.5 cm blade 21 cm blade is blunt, we can deliver sharp on request manufactured by Wulflund
An Icelandic Thor's hammer, the so-called wolf cross. The original was found in Fossi, Iceland. Our reproduction is more animalistic, the likes of Fenrir, the Viking wolf. Similar zoomorphic pendants were found in Norway as well. Material: sterling silver Size: 2.2 x 4.1 cm Weight: approx. 9 g
Left-handed Dagger suitable for fencing.
total length 53 cm
blade length 39 cm
guard width 19 cm
width of blade at the guard 3.5 cm
weight 940 g
Beautiful and grand Drinking Horn with Handmade Pewter Mascarons. Treated with food safe varnish. Ideal for ceremonial purposes, or as a prestigious gift. Material cow horn, food safe pewter Volume 0.4 l The photographs are for illustration purpose only. Our products are hand made and as such…
Beautiful and grand drinking horn. We choose the most interesting horns in shape and color. Handmade food safe pewter decorations. Treated with food safe varnish. May be used for ceremonial purposes, or as a prestigious gift. Material cow horn, food safe pewter Volume 0.4 l
Stage and Sport Combat Replica of a Medieval Dagger. Material: spring steel 54SiCr6  Hardness approx. 50 - 52 HRC Sword by Wulflund
A DOMOVOI (or Domowik) is a house spirit in Slavic folklore. In Slavic mythology every house is said to have its own house dwarf. The DOMOVOI is a guardian of the house and he sometimes helps with household chores or work in the garden.  He also symbolizes  prosperity. He likes to live under the…
Fenrir - the Viking Wolf - is one of our most distinguished products. The design is inspired by the Borre Viking art style (named after the locality in Norway, 9th-10th century). Wolf symbolizes strength, endurance and freedom.Fenrir is the eldest son of the God Loki and the Giantess Angrboda. The…
A beautiful piece inspired by Slavic early Medieval finds of the Great Moravian Empire. Vesna is according to Slavic Mythology the Goddess of youth, life, beauty, love and the spring. Material sterling silver Size 3 x 3.7 cm, bale6 mm in diameter Weight 9 g On request we can place a gem of…
Mjolnir Raven Head Thor Hammer Reproduction of an artefact from Kabara, Scania, Sweden. In our opinion one of the best Thor's Hammer reproductions on the market. Material: sterling silver Size: 4 x 5 cm   Weight: 17 g (!) Shipping worldwide from 5 USD Click the picture to see the photo…
An excellent reproduction of Raven Head Thor Hammer found in Kabara, province of Scania, Sweden. Original model was made by filigree and granulation. Thor's Hammer, or Mjöllnir, is God Thor's magical weapon. The hammer is unbreakable, it always hits the target and then comes back to the owner's…
Replica of an old Slavic jewel - Lunitsa (also Lunula or Luneta). The original was found near the city of Stare Mesto, Uherske Hradiste, the Czech Republic, the 9th century, Great Moravian Empire (first state of western Slavs). Symbol of Lunitsa (or Lunula - little moon) is a female symbol. Such…
No piece of jewellery is ordinary and the most valuable of them should fulfill at least the following criteria: high quality of craftsmanship, careful choice of materials and an original and interesting design. We dare say this jewel meets them all and has even more. It contains history and a soul…