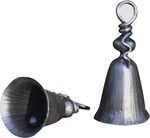 Hand forged Celtic knife. Inspiration: Celtic finds of European Iron Age settlements - oppida Overall length: 30 cm, blade: 16 cm, blade thickness: 4 mm. Hand forged in Bohemia (land of Boii tribes) by Arma Epona smithy.
Custom made packing table for e-shops. Let us know requested dimensions and we will let you know a price.
Sandtone Garden Bowl and Forged Holder. Hand crafted stonemasonry from natural sandstone from the Czech Republic. Can be customized to your requirements e.g. holes for growing plants. Material sandstone Size 34 x 32 x 11 cm Height: 10 cm Weight 10 kg
TROLL CROSS Wall DECORATION. So called Troll Cross is a strong protective symbol of the old Scandinavian folklore. It should protect you and your home against trolls and other creatures that lurk in the forest as well as against any malevolent forces. Material: iron Height: 61 cm Width: 40 cm …
Forged Hook for a variety of uses. Height: 18 cm.
Viking oil lamp, type Oseberg. Inspiration: oil lamp exhibited in Kulturhistorisk Museum, Norway.
Six hand forged dice and horn cup. Horn cups for dice game were used since ancient Rome period. Size aof a dice: 1.5 x 1.5 cm.
Hand Forged IRON Cloak BROOCH.