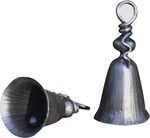 Hand forged Celtic knife. Inspiration: Celtic finds of European Iron Age settlements - oppida Overall length: 30 cm, blade: 16 cm, blade thickness: 4 mm. Hand forged in Bohemia (land of Boii tribes) by Arma Epona smithy.
Hand forged and functional firesteel.
Sandtone Garden Bowl and Forged Holder. Hand crafted stonemasonry from natural sandstone from the Czech Republic. Can be customized to your requirements e.g. holes for growing plants. Material sandstone Size 34 x 32 x 11 cm Height: 10 cm Weight 10 kg
So called Troll Cross is a strong protective symbol of the old Scandinavian folklore. It should protect you against trolls and other creatures that lurk in the forest. This pendant protects the wearer against evil in general - protects people, animals and homes.The wall plaque is based on the…
Set of six forged dice (1.2 x 1.2 cm), the leather cup: height: 11.5 cm.
ANVIL Sterling SILVER 3D Pendant for blacksmiths and fans of this ancient craft, cast as a whole. Material sterling silver Size 1.1 x 2 cm Weight 6.8 g
Six hand forged dice and horn cup. Horn cups for dice game were used since ancient Rome period. Size aof a dice: 1.5 x 1.5 cm.
OMEGA BRASS BROOCH for LEGWRAPS. These long narrow pieces of cloth, also known as leg bindings wickelbander, puttees or winingas were wound tightly round the lower leg. Made to compliment Slavic, Anglo-Saxons and Viking costumes. Size approx. 2.3 cm in diameter Price is per one piece
Small STERLING Silver Costume Brooch for Reenactors, suitable for shirts and similar costume items. Material sterling silver Weight approx. 2.9 g Diameter approx. 2 cm
Hand forged spear of a Norman horseman, reconstruction of an artefact from England dating back to the 11th century.
length: 21 cm
diameter: 4 cm
FIRESTRIKER and FLINT in Leather Pouch. Starting a fire with a lighter? Try this set of hand-forged firestriker and flint instead. You will also need some tinder, you can make your own using e.g. videos on Youtube. material iron, flint tinder is not included