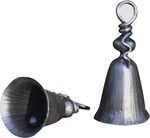 TROLL CROSS Wall DECORATION. So called Troll Cross is a strong protective symbol of the old Scandinavian folklore. It should protect you and your home against trolls and other creatures that lurk in the forest as well as against any malevolent forces. Material: iron Height: 61 cm Width: 40 cm …
Viking oil lamp, type Oseberg. Inspiration: oil lamp exhibited in Kulturhistorisk Museum, Norway.
Hand made riveted iron cauldron. Volume: 5 L. Because of EU laws we sell this item as a decoration.
OMEGA BRASS BROOCH for LEGWRAPS. These long narrow pieces of cloth, also known as leg bindings wickelbander, puttees or winingas were wound tightly round the lower leg. Made to compliment Slavic, Anglo-Saxons and Viking costumes. Size approx. 2.3 cm in diameter Price is per one piece
Round Viking Cloak Clasp with a chain. Made of a tin alloy. Size: 5 cm in diameter of each round brooch.
Decorated Forged BROOCH.
Material: iron
Size: 6 cm
Hand-hammered iron brooch. 6 cm in diameter.
Hand-hammered iron brooch.