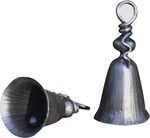 A forged belt buckle. Suitable for historical and modern leather goods. Finished with anti-rust lacquer.
Material: iron
Size: 4.5 x 5 cm
For belts with the max. width of 3.5 cm
Universal
Hand Forged TORQUES in Bio-industrial style with terminals resembling spider legs.
Patinated with the oak bark, treated with anticorrosion wax
HAND FORGED CELTIC TORC, highly decorated with ball terminals. Easily openable (soft material), rust treatment.
Hand Forged Torque designed for comfortable wearing. Torque (troq or torc), from Latin torques - to twist, is a common name for all rigid metal neck rings, that our ancestors had been wearing since the Bronze Age. Torcs were popular with the Romans and it is considered a typical Celtic artefact. It…
Hand Forged Bracelet Bio-industrial Style resembling an insect limb.
Patinated with oak bark, treated with anticorrosion coating.
Hand forged torc - the jewel of the ancient kings, heroes, druids and the Gods. This jewel is designed and adjusted also for comfortable wearing. You can simply open and close it. The torc is hand forged, black finished by oak bark and anti-corrosive lacquer is used.