Forged TROLL CROSS, large wall decoration
Forged TROLL CROSS, large wall decoration
So called Troll Cross is a strong protective symbol of the old Scandinavian folklore. It should protect you against trolls and other creatures that lurk in the forest. This pendant protects the wearer against evil in general - protects people, animals and homes.

The wall plaque is based on the rune called Othila: a strong Germanic rune, which translates as "heritage". It is related to its ancestors and to its country.

Size: 13.2 x 21 cm. Material: iron.
Related products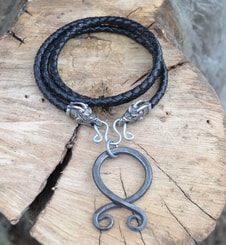 $26.54
Catalogue number: OPE121
1-2 weeks