ancient swords - celtic, roman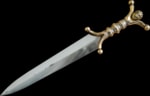 Ancient swords - celtic, roman
Reproduction of a Celtic sword with an anthropoid hilt, discovered in 1902 at North Grimston, Ryedale district, North Yorkshire, UK. The sword was found in the grave of a Celtic warrior, along with a shield, a second sword, and a joint of pork (Hull and East Riding Museum). Decorative sword…
Celtic SWORD or DAGGER Reproduction with Human Body Shaped Bronze Hilt. The original artefact was discovered in 1902 at North Grimston, North Yorkshire, UK, in the grave of a Celtic warrior, along with a shield, a second sword, and a joint of pork. Material: bronze, 54SiCr6 steel Overall length:…
Celtic Sword proportionally and structurally based on artefacts from the Early Iron Age (also the La Tène period). The grip is made of wood and iron, high carbon steel blade is tempered to 50-52 HRC. Material: 54SiCr6 high carbon spring steel, oak wood Hardness: 50-52 HRC Overall length: approx.…
Celtic Sword with Two Fullers proportionally and structurally based on artefacts from the Early Iron Age (also the La Tène period). The grip is made of wood and antler, high carbon steel blade is tempered to 50-52 HRC. Material: 54SiCr6 high carbon spring steel, wood, antler Hardness: 50-52 HRC …
Celtic Sword proportionally and structurally based on artefacts from the Early Iron Age (also the La Tène period). The grip is made of wood and antler, high carbon steel blade is tempered to 50-52 HRC. Material: 54SiCr6 high carbon spring steel, wood, Hardness: 50-52 HRC Overall length: approx.…
Celtic Sword proportionally and structurally based on artefacts from the Early Iron Age (also the La Tène period). The grip is made of wood and antler, high carbon steel blade is tempered to 50-52 HRC. Material: 54SiCr6 high carbon spring steel, wood, Hardness: 50-52 HRC Overall length: approx.…
Well crafted replica of an Iron Age - Celtic Sword. The sharp blade of the sword is tempered. Overall length approx. 85 cm Length of the blade approx. 69 cm Blade width 5.1 cm Sharp blade - not for live action
Wooden Gladiatorial SWORD.
total length: 69 cm
blade length: 50 cm
Reproduction of Celtic Sword or Dagger with Anthropoid Hilt discovered in 1902 at North Grimston (Ryedale district, North Yorkshire, UK). The sword was found in a grave of a Celtic warrior, along with a shield, a second sword, and a joint of pork (Hull and East Riding Museum). Overall length:…
Germanian Scramasax inspired by a historical artefact.
overall length 68 cm
blade 56 cm
weight 680 g
CELTIC WARRIOR SET includes Celtic La Tene Sword, Iron Scabbard, Forged and Leather Belts. The sharp sword is of collector's and museum quality. Handcrafted in the fatherland of the Celtic Boii tribes, Bohemia (Czech Republic). material oak wood and forged blade overall length 87 cm blade…
GLADIATOR'S TRIDENT not just for the Sea Gods Poseidon and Neptune but also for gladiators, Retiarius used to fight with this weapon. overall length approx. 35 cm length of spikes 18 and 14 cm made by Wulflund
Blunt Combat Thracian Sica constructed for stage combat. SICA is a short sword/dagger of the ancient Thracians, Dacians and Ilyrians. This weapon was also used by gladiators. Sicas were found in Romania, Bosnia, Bulgaria, Albania and Serbia. It is depicted on the Trajan Column. material case…
FALCATA Functional Pracstise Replica.
material: spring high carbon steel 54SiCr6,
hardness approx. 52 - 54 HRC
overall length 78 cm
blade length 58 cm
manufactured by Wulflund
Celtic SWORD for Practise Fighting.  material case hardened high carbon spring steel 54SiCr6 overall length 85 cm blade 70 cm width of blade 5 cm The guarantee covers the blade only, the wooden parts are excluded. The original Celtic swords were not constructed for practise figting and…
Metal Replica of Gladiator Arm Weapon.
overall length: 35 cm
manufactured by Wulflund
Celtic SWORD of Fantasy Design inspired by Hallstatt anthropomorphic swords. material high carbon steel 54SiCr6 case hardened to 50 - 52 HRC overall length 79 cm blade length 64 cm guard width 13.5 cm
Well crafted replica of an Iron Age Celtic Sword constructed for stage combat. material high carbon steel 54SiCr6 overall length approx. 85 cm length of blade approx. 69 cm blade width 5.1 cm blade is tempered 
Iron Age Celtic Sword of collectible quality with case hardened blade constructed for  stage combat. material high carbon steel  54SiCr6 overall length approx. 85 cm length of blade approx. 69 cm blade width 5.1 cm blade BLUNT point of balance approx. 2 cm below the guard weight: 1.22 kg…
Trident for stage fight. The Sea Gods Poseidon and Neptune are classically depicted bearing a trident. Also gladiators, e.g. Retiarius, used to fight with this weapon. Largre balls on the spikes should minimalize injury. overall length approx. 32 cm width 21 cm length of the spikes 20 cm …