Ballistol H1 spray for food industry, 200 ml
Are you looking for rust protection and care for your knife? Food safe and effective?
Ballistol H1 is primarily suitable for food processing industry, e.g. beverage manufacturers, butchers, bakeries, etc. Even households, which place value on a high-quality care of their domestic appliances use Ballistol H1. Ballistol H1 is colorless and tasteless, it also offers an effective rust protection for all machinery and equipment. Ballistol H1 is suited for cleaning as well as a lubricant or penetrating oil.
Capacity 65 ml fluid or 200 ml spray
SHIPPING ONLY WITHIN THE EU!
Related products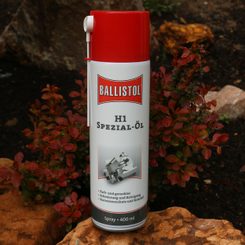 $22.39
Catalogue number: TOR558
In stock