Halishte, traditional Balkan rug, 130 x 125 cm
Halishte, traditional Balkan rug, 130 x 125 cm
Halishte is a unique hand-woven rug. It is exceptionally warm and can be used as a carpet, a bed or a sofa cover, or a wall decor. It is made from wool of a special breed of sheep from the Balkan Mountains. Individual locks of wool are woven into a base fabric giving halishte better thermal insulating properties than a sheep skin. Halishte has had a long tradition in the Balkan region and in the past was considered a symbol of wealth.
Halishte can be used both in an interior or an exterior. It will also look amazing in a tent of a Celtic Chieftain, Roman Centurion as well as a Viking Jarl or a Medieval nobleman.
Size: 125 x 125 cm
Imported by Wulflund
Care: you can hoover the rug on a low setting, hand wash, max 25 °C.
Related products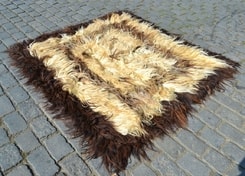 $834.16
Catalogue number: WTS22
In stock