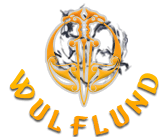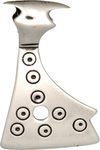 CZECH LION Large Bronze Pendant, the symbol of the double-tailed lion is the old heradlic symbol of Bohemia. The facial expression of this lion is not of a mute national symbol, it overflows with pride, fighting spirit and a proper portion of anger. Today the state may not be in an optimum…
Lime (Linden) Leaves as a bronze pendant. The tree has become an official panslavic symbol at the Panslavic gathering in Prague in 1848.   Material: bronze Size: 3.6 x 5 cm Bail on the reverse
Medieval King's helmet Bronze PENDANT inspired by an artwork of the Gulhausen kodex. This is the helm of Premysl Ottokar II (1233 – 1278) a Czech king, called The Iron and Golden King.  He was the Duke of Austria, Styria, Carniola and Carinthia.  Material bronze Size 2.9 (height) x 4 cm Bale on…
Slavic Symbol of Kolovrat Bronze Pendant. A unique piece of jewellery as it is probably the first one in the world that combines the symbol of Kolovrat with jewellery making methods of granulation and filigree which were very popular in early Slavic Empires, such as the Moravia Magna Empire. The…
Large Bronze PENDANT of Svetovit inspired by a wooden figure of four-headed Slavic God Svantovit discovered by chance in a tree hollow in Wollin, Poland. Svantovit is a Slavic God of war, fertility and abundance. He has four heads to protect you from all sides. Body of this pendant resembles…
JAV and NAV - Double Kolovrat (double spinning Sun wheel) - Reflects the eternal connection of Jav - the physical world we live in, and Nav - the spiritual world in which our glorious ancestors live. Constant turning and interaction of these two worlds demonstrates their strong spiritual…
The WOLF is a totem animal of the old Slavs, their mythical ancestor. It played a significant role in the Slavic mythology and folklore. The wolf was venerated and feared. For the Slavic people wolves are tied up to protection rituals and ancestor worship, being a way to connect the…
Leather bracelet with the Czech lion.  Material: leather, pewter.  Dimensions: 6.5 x 27 cm.
Leather bracelet with a Slavic sun wheel symbol - Kolovrat.  Material: tin, leather.  Size: 5.6 x 27cm.
Hand made leather cuff with the Bohemian Lion (pewter talisman).  Size of the cuff: 4.0 x 22 cm.  Handmade in the Czech Republic (our design).