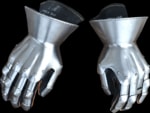 1 pair of gauntlets with leather protector. Total length 34 cm. Leather gloves included.
Hand made sollerets (1.3 - 1.5 mm thick steel).
Material: iron plate 1 mm thick. Price is for the pair.
Hip and waist circuit required. Custom-made product.
Poleyns. These Three Quarter Legs provides good protection for the front of the legs. Price is for pair.
Material: steel. Thickness: 1.5 mm. Price is for a pair.
Battle ready gauntlets. Material: 1.3 mm thick iron plate. Leather gloves included.
Composited breast plate, 1.5 mm iron plate. We will disscuss measurements in email.
Very useful part of armour that can protect your arm against opponent's sword .... who wants to have indstead of forearm mixture of textile, skin, muscles and bones? :) Thickness ca 0,8 - 1 mm. Site cca 23 cm.
1 - 1.3 mm thick pair of iron vambraces that will protect your arm better than leather ones :) Size cca 22 cm.
St. Wenceslas Helmet.
Material thickness: 1.3 mm