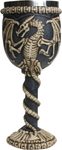 ROSE from the DEAD GOBLET.
material resin, stainless steel
height 18.5 cm
weight 350 g
removable stainless steel insert
imported from the UK
Poison Mug.
Size: 14.5 cm
Volume: 750 ml
Imported from England
Art Nouveau Retro bottle. Height: 25.5 cm.
Knight's Gauntlet. Height: 23 cm. Material: resin. Imported from the UK.
Hand Painted Mother Maiden & Crone GOBLET with Ivy Detailing. material artficial resin total height 20.5 cm diameter at the top 9.5 cm volume 250 ml washable stainless steel insert imported from the UK   Import: Great Britain