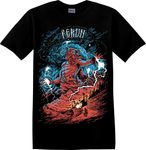 CULT OF CTHULHU T-shirt. 100% cotton Detailed design Quality print T-shirt by Gildan, USA Manufactured by Naav Fashion Printed in the Czech Republic
We Slavs have no one and no reason to apologize for our history and culture. We will never kneel before anyone. Sometimes we only have to apologize to ourselves. We will soon unite in the temple of Svetovid. His sword will save our countries from collapse and burning. GLORY! T-shirt with the…
FENRIR VIKING WOLF T-shirt with the quote "Where wolf's ears are, wolf's teeth are near" from the Volsunga Saga, c.19. Material 100% cotton T-shirt by Gildan, USA Detailed design Quality print Printed in the Czech Republic
Leshy T-shirt. 100% cotton Detailed design Quality print T-shirt by Gildan, USA Manufactured by Naav Fashion Printed in the Czech Republic
Perun is the mightiest of all Slavic Gods, invincible warrior, the creator of thunder and lightning. He maintains order in the Universe, grants victory in battle and protects the state and its rulers. Of all the Gods, he has the closest relationship with the mankind, and as a very powerful God…
We Slavs have no one and no reason to apologize for our history and culture. We will never kneel before anyone. Sometimes we only have to apologize to ourselves. We will soon unite in the temple of Svetovid. His sword will save our countries from collapse and burning. GLORY! T-shirt with the…
Ragnarok, "The Doom of the Gods", is the name the pre-Christian Norse gave to the end of their mythical cycle, during which the cosmos is destroyed and is subsequently re-created. "Ragnarok" is something of a play on words; an alternate form, which sounds almost identical when spoken, is Ragnarøkkr…
BROTHERHOOD, Slavic T-shirt.
100% cotton
Detailed design
Quality print the Czech Republic
T-shirt by Gildan, USA
Manufactured by Naav Fashion, the Czech Republic
FENRIR, VIKING WOLF, T-shirt.
Detailed design
Quality print
Gildan T-shirt (US company)
Printed in the Czech Republic
No 311 (Czechoslovak) Squadron RAF was a Czechoslovak-manned bomber squadron of the Royal Air Force in the Second World War. On 27 December 1943 Liberator BZ796/H, led by Plt Off Oldřich Doležal, attacked the German blockade runner Alsterufer in the Bay of Biscay. Doležal's crew set the cargo ship…
Isa – Literally "ice", esoteric meaning "stasis, stillness". Rune of concentration of things in a static or frozen state. Detailed design Quality print Printed in the Czech Republic T-shirt by Gildan, USA Naav fashion brand Rune of stillness and the Ego-self. It governs: Development of…
AGAINST ALL, T-Shirt, coloured, Naav. The Hussites were a protestant movement following the teachings of Czech reformer Jan Hus who was burned for his teaching by the Roman catholic church in Konstanz. After his death there was a large rebellion within the Czech lands (also in the southern…
BERSERKER, T-Shirt. Berserkers were Viking warriors who were said to have fought in a trance-like fury, a characteristic which later gave rise to the modern English word berserk. One possible meaning of the Old Norse words ber-serkr is bear-shirt. Detailed design Quality print Gildan T-shirt …
Odin, pronounced "OH-din", which can be translated as "Master of Ecstasy", is one of the most complex and enigmatic characters in Norse mythology. He is a relentless seeker after and giver of wisdom. He is a war-god, but also a poetry-god. The ecstasy that Odin embodies and imparts is the unifying…
Deus vult is a christian motto that has been used throughout the history of Western christianity. It originated in the Latin translation of a declaration by Saint Paul as it appears in the Vulgate: "Deus vult omnes homines salvos fieri"—"God willeth all men to be saved." Deus vult was used by the…
CERNUNNOS, T-Shirt. Cernunn (Kernunn, Cernunnos), God of the forest, guardian and the guide to the other world. Cernunn is commonly pictured with stag antlers and sitting in the lotus position. Detailed design Quality print Gildan T-shirt (US company) Manufactured by Naav fashion brand …
OUROBOROS T-Shirt. OUROBOROS, or uroborus, a dragon or serpant eating its own tail, originated in ancient Egyptian iconography and was adopted as a symbol in Gnosticism and Hermeticism and mainly alchemy; a symbol of a cyclical nature of the universe. The famous ouroboros drawing from…
HADES, Greek Mythology Collection.
Detailed design
Quality print
Printed in the Czech Republic
T-shirt by Gildan, USA
Naav fashion brand
Tiwaz VIKING T-SHIRT from our collection FUTHARK. It is also known as T-rune, which is named after, and identified with, God Tyr. The Proto-Germanic name is Tîwaz or Teiwaz. This God is in Norse mythology associated with law and heroic glory. The rune's meaning is VICTORY or HONOR. 100% cotton …
VICTORY or VALHALLA VIKING Men's T-shirt. A Norse warriors going to combat faced two possible outcomes, victory, or ascending to Viking "heaven", which was for half of the slain ones Valhala ruled by Odin, the second half of the dead went on to be with the Goddess Freyja. 100% cotton Detailed…