PERUN plate carrier - tactical vest OLIVE
Perun: King of the Gods, Lord of thunder, and patron of warriors and weaponry from time immemorial.  His was a martial faith.  Now, with a featureset befitting the modern warrior, the Perun plate carrier pays homage to the deity and enables its wearer to bring the thunder.
The Perun plate carrier is a fully-featured military-style plate carrier.  It is constructed entirely of very tough Cordura-brand nylon, and features cable guides, advanced laser-cut MOLLE, a slick admin pouch, and comfortable shoulder and torso padding.  It also has an adaptable plate pocket that can securely contain a wide range of military-style armor plates, across various sizes.  (Including SAPI S through SAPI L.)  It can also fit thick systems, such as the Storm Foundation with an up-armor plate and a trauma pad.
The Perun is suitable for night and maritime operations.  It has low IR emissivity, which increases functionality -- and, potentially, survivability -- during night operations.  Further, its construction is water-repellent and doesn't absorb significant amounts of moisture, so its wet weight is similar to its dry weight.  And it can be doffed in seconds, even under pressure.
Unlike most military-style plate carriers, the Perun is also suitable for covert and police use.  With a slick surface, and without bulky and unnecessary quick-release mechanisms or buckles, it can comfortably be concealed underneath jackets and other outerwear.  Lightweight and breathable, it is just as suitable for all-day police use as it is for military use.
The Perun plate carrier is made in Bohemia, Czech Republic, Europe.  
500D Cordura construction.
Laser-cut MOLLE on front, back, and cummerbund.
Velcro mounting panel on outer surface.
Heavy-duty drag handle.
Slick admin pouch.
Adjustable plate bags suitable for use with plates from 22.5 x 27.5cm through 26 x 32cm, and from 5mm through 33mm in thickness.
Lightweight and breathable molded open mesh on the body-side of the plate bag.
Fabric treated for low IR emissivity to improve functionality at night.
Water-repellent structure with minimal water absorption.
Adjustable shoulders with hydration and radio or power cable pass-through.
Light-weight at well under 1kg, including all components. 
Related products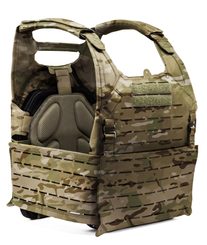 $184.47
Catalogue number: TAR03
In stock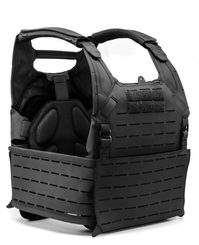 $169.54
Catalogue number: TAR01
In stock