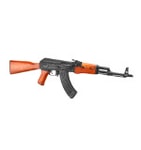 Airsoft
Airsoft specific equipment - weapons, ammunition, radios, optics.
You must be at least 18 years old (proof of age required)!Muzzle Velocity (0.20g): approx. 365 fps (1.25 Joule)The mentioned value has been measured by ourselves and will be frequently remeasured. Variations of +/- 10% or more are possible.This gun is a very attractive AK47.  It comes with a…
The smallest fragment can end the biggest mission for a soldier, but the best eyewear does more than protect against ballistic fragmentation. It provides the optical clarity that helps the soldier avoid the danger in the first place. It offers uncompromising comfort that lets the soldier…
Goggles for airsoft. Clear glass. Weight of about 43 g.
Neoprene protective mask for airsoft in black. Weight 48g.