historical glass beads, replica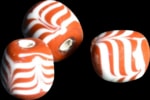 Historical glass beads, replica
Handmade glass beads. Museum replicas of Celtic glass beads. Reproduction that is based on a find from the locality of Schnippenburg (Germany). Size: 0.4 x 1.5 cm. Made in the Czech Republic. Price is for one piece.
A Celtic bracelet made of eighteen beads.
Replica of a Celtic glass bead. This type of beads was common in Europe since 800 CE.
Length:  18-20 mm
Material: glass
600-175 BCE (HaD-LtC1)