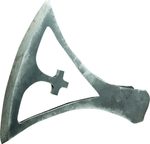 Hand Forged Slavic Axe Replica.
length of shaft approx. 80 cm.
axe width 5 cm
blade length 18.5 cm
Slavic Axe Hand Forged Replica of an artefact from the Island of Lednica, Poland, where in 1038 Bretislaus I, also called Czech Achilles, the Duke of Bohemia, invaded Poland and attacked the castle on the island. The axe is believed to had been used in this battle. Overall length of the shaft…
Blade of the axe is in the final stadium forged to receive better properties (better integrity of the steel material and higher hardness). Axe is blunt. Combat-ready. Size of metal part: cca 21 - 22 cm (edge of the axe). Wooden axe helve is circa 70 cm long.