Falchions, Scotland, other swords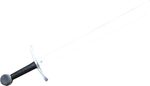 Falchions, Scotland, other swords
Falchions, Scottish Swords, Other and Fantasy Swords. Here we sell cutlasses (falchions), Scottish broadswords (Claymore) and other unclassified cold weapons (Katzbalger, katana, film replicas).
Our swords are made from high carbon spring steel (54SiCr6) and usually tempered to a hardness of 52 – 54 HRC.
Unfortunately, there are no products in this category.