Sword accessories, scabbards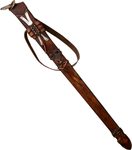 Sword accessories, scabbards
Leather scabbards for swords and accessories for your cold weapons. Leather scabbards including those made for rapiers are available to purchase with our weapons, or we can craft custom made scabbards for your own sword. 
Do not forget to take care of all those metal parts: you can buy the right oil here as well.

Do visit this category. A sword without a scabbard is like a woman without her clothes :) Please let us know these measurements of your sword, sabre or rapier to make a custom made scabbard.
[magnify]