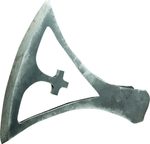 Axes
Batlle Axes were used in the early Middle Ages by the Vikings and Slavs much more often than expensive swords. They were weapons that even the common people could afford. Nothing of their deadly impact was lost during the high Middle Ages and Renaissance periods, when axes took the form of all-metal weapons, often decorated by etching. We also make pole weapons for you:  halberds, war hammers, maces and flails.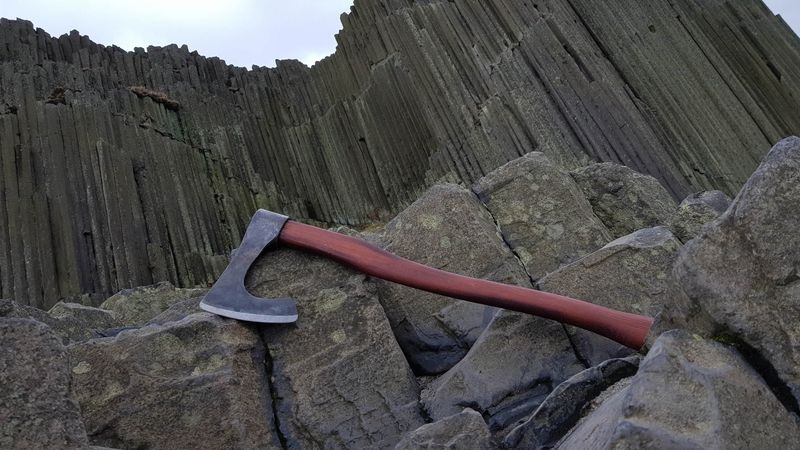 Medieval Bearded Axe with rounded edge in BLUNT version, case hardened for re-enactment practise.  Size of axe head 16 x 19 cm Excellent product of Arma Epona smithy (Czech Republic). For safety reasons it is necessary to treat the axe with a water or linen oil so the wood won't get dry and the…
Broad Blade Viking Axe with open section forming a cross at the centre, late 10th century, Stenstugu, Hejde, Gotland, Sweden. Material high carbon spring steel Axe 22 cm Blade 17 cm Weight 1.2 kg Hand forged by Arma Epona smithy
Replica of a Mace (Bulawa) from the 11th-12th century. Favorite weapon of cavalry and light infantry. Similar maces were found in Germany, Hungary and present day Ukraine dating back to the 12th - 13th century. The head is cast in bronze Length: 51 cm Size of the head: 4.5 x 6 cm Total weight:…
Hand Forged Exact Copy of VIKING AXE from Kievan Rus, BLUNT/SHARP blade.
Overall length approx. 80 cm
Blade length 15 cm
Axe width 18 cm
Hand Made Forged Irish Gallowglass Axe with oak wood shaft. SHARP or BLUNT for re-enactment Weight: 2,5 kg Total length: 176 cm Length of the shaft: 160 cm Length of the blade: 30 cm Width of the blade: 10 cm
FRANCISCA Axe.
length 65 cm
blade length 6.5 cm
metal part width 16 cm
weight 0.68 kg
Etched Axe with Griffin.
The length of the axe: 73 cm
The length of the head: 21 cm
The width of the blade: 15 cm
Reproduction of the head of a Celtic axe from the Late Iron Age.
Size: 11 cm length, blade: 4.2 cm
Diameter for the wooden handle: 3 cm
Sharp replica of a medieval Hussite billhook.
Diameter: 4 cm
Length of a metal part: 49 cm
Max. width 15 cm
Overall length 212 cm
Sharp replica of a medieval Hussite spear.
Diameter: 4 cm.
Length of a metal part: 73 cm
Max. width 6.5 cm (15 cm křidélka)
Overall length 195 cm
Sharp replica of a Hussite glaive.
Diameter: 3,5 cm
Overall length: 195 cm
Metal part: 5 x 50 cm (35 cm sharp edge)
Made by Arma Epona Smithy as a collectible replica
VALASKA/The Wallachian, forged Carpathian Axe. The Wallachian is a shepherd's ax, which is an integral part of the Wallachians. It had and still has a truly universal use. It is mainly used as: Personal, hunting and throwing weaponTravel staffAs an attribute of arms dance and part of the costume…
LYNX, forged tomahawk.
Length: 53 cm
Head length: 17.5 cm
Length of blade: 5.6 cm
Sharpness: sharp
HAWK, forged tomahawk.
Length: 53 cm
Head length: 17.5 cm
Length of blade: 5.6 cm
Sharpness: sharp
COUGAR, forged tomahawk.
Length: 46 cm
Head length: 15 cm
Length of blade: 5.5 cm
Sharpness: sharp
COYOTE, forged tomahawk.
Length: 54 cm
Head length: 16.5 cm
Length of blade: 6 cm
Sharpness: sharp
ÁSEGIR Double-Bladed Axe with Leather Decorated Handle and Thor's Hammer Symbol from tempered 54SiCr6 spring steel. High quality material and craftsmanship, NOT INTENDED for training or battles. This barbarian brutality will disarm everybody! All zombies take cover! Material 54SiCr6 high carbon…
Battle Axe for HMB with blunt blade.

Axe width 20 cm
Blade length 40 cm
Shaft length 119 cm
Weight including shaft
Viking Axe. The length of the axe: 77 cm The width of the shaft: 4.5 cm The thickness of the shaft: 2.5 cm The length of the head: 21 cm The width of the blade: 15 cm Weight: 1.3 kg
Broad Blade Viking Axe with open section forming a cross at the centre, late 10th century, Stenstugu, Hejde, Gotland, Sweden. Material high carbon spring steel Total length 120 cm Axe length 22 cm Blade length 17 cm Weight 1.2 kg Hand forged by Arma Epona smithy