VALASKA traditional forged Carpathian Axe - etched - Petroglyphs, Tanum
VALASKA/The Wallachian, forged Carpathian Axe.
The Wallachian is a shepherd's ax, which is an integral part of the Wallachians. It had and still has a truly universal use.
It is mainly used as:
Personal, hunting and throwing weapon
Travel staff
As an attribute of arms dance and part of the costume
Properties:
Length: 94 cm
Head length: 14 cm
Blade length: 5 cm
Sharpness: sharp
Inspired by Tanum petroglyphs, Sweden, where more than one thousand rock carvings dated to the Bronze Age, an incredible source depicting people with arms, animals, wagons and ships, have been discovered. The site was listed as UNESCO World Heritage Site in 1994.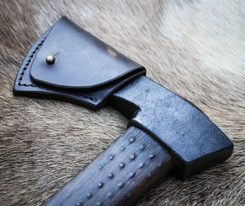 $36.25
Catalogue number: VAL77
In stock