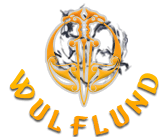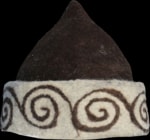 Costumes for men
Historical and fantasy gentlemen clothing and headwear.
Woolen viking pants, exact reconstruction of pants found in Birka (Sweden), used mainly by Swedish vikings called Varangians in the East. The amount of woolen cloth used reflects something about wealth of their owner. These trousers offer very comfortable wearing. All visible stitches are hand sewn…
Woolen viking tunic decorated with embroidery regarding design from Gotland (Sweden). You can close up the slit at the neck with brass clasp, which looks nice and you will find it handy during winter. All visible stitches are hand sewn with linen thread. We are suppliing the tunic in sizes: S, M, L…
Woolen viking hood, replica from Skjoldehamn (Norway,X - XI. Century). Hood is outsewn with linen cloth and all visible stitches are hand sewn with linen thread. Very practical not only during winter, you find it comfortable during long sitting along the campfire in the summer nights while…
Woolen Viking Cap Rimmed with Rigid Woven Heddle Belt, exact replica from Birka, Sweden. outer woolen part sewn from 6 pieces decorative belt hand-woven on rigid heddle loom linen cloth lining all visible stitches are hand-sewn with linen thread
Woolen pants were traditional base of every male clothing. Used colours were carefully picked as those are the most common colours used in medieval fashion. Pants are sewn from very comfortable wool and are flexible with excellent mobility. Required measurements: circumference of thigh, knee, calf,…
Viking woolen tunic decorated with embroidery. All visible seams are sewn by hand.
Medieval hoods from wool were common part of every male and female clothes. There were several designs including this one, which is very elegant for more wealthy people. Thats why we choosed red wool and undersew it with green linen. Hoodes were not only fashion, but very practival piece of cloth…
Woolen viking cap decorated with silk and embroidery regarding to Valsgarde (Sweden) decorations found. Cap is rimmed with fox fur and outsoled with linen cloth and all visible stitches are hand-made with linen thread. Material: wool, silk, linen. Size: 60 cm
Medieval Tunic made from wool.
White renaissance shirt. Material: cotton Plese let us know these measures: B, H, A, L (see this image)
Comfortable baroque (renaissance) trousers made of thin wool, cloth buttons. All visible seams are sewn manually. Material: wool Please let us know these measurements: waist circumference calf circumference trousers length - from waist to under your knee distance
This is TITVS MARTIVS personal cloak. Size 260 x 130 cm.
Material and colour depends on you. Consult measurements with us.
Watch details and follow instructions concerning taking of measurements at the beginning of this page. Thank you.
Upper material: wool
Lining material: linen
Medieval handmade woolen hat.
Medieval handmade woolen hat.
Upper material: wool
Lining material: linen
This top hat is fashioned on the hats of the Voodoo Healers. Featuring a multitude of faux shrunken skulls and beautiful feathers. Use it as a prop for a weekend in Whitby or as a decorative piece in your home. Size 30 x 24 x 12.5cm Import from England  
Welsh Bowman Costume with Scalloped Edge Hood, custom made. coat – duvetyn, no lining hood – duvetyn with cotton lining the costume consists of the coat and the hood