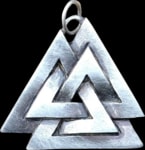 Amulets and talismans
A wide selection of amulets and talismans from pewter and fashion jewellery materials. Celtic pendants, Viking designs (Thor's Hammer, Valknut and more…), Slavic amulets, Medieval talismans, Zodiac signs, animals, dragons, rune necklaces, magical amulets. Wholesale pricing available.
Slavic Wolf, Czech-Serbian cooperation. The author of the design is Saša Ristic.
Ко се с' вуком качи, добије цео чопор!
Who mess with the Wolf, gets the whole Pack!
Material: bronze
Size: 3.4 cm
Tin pendant of mighty Slavic God - Perun.  Perun is a God of thunder and lightning and is the highest God of the Slavic pantheon.  This pendant is inspired by a real find of Perun and from illustrations of Bohemian artist Mikolas Ales. Perun has a hood - symbol of spirituality, moustache -…
Triglav is the God from Slavic mythology, revered in Wolin and Szczecin by the Pomeranian tribe. Triglav has three heads because he governs three realms: Heaven, Earth, and the Underworld. The biographer Herbord states that the main Szczecin shrines were built using special art and mastery, with…
Thor's Hammer, or Mjöllnir, is God Thor's magical weapon. The hammer is unbreakable, it always hits the target and then comes back to the owner's hand. The hammer flies through the sky in the form of a lightning. The word Mjöllnir means "grinder or crusher". To be able to handle the hammer Thor…
Bear Head Pendant.
Material: zinc alloy
Size: 2.7 x 2.8 cm
Bail on reverse
SPARTAN SHIELD Pendant.
Material: zinc
Size: 3 cm
Medieval King's helmet PENDANT inspired by an artwork of the Gulhausen kodex. This is the helm of Premysl Ottokar II (1233 – 1278) a Czech king, called The Iron and Golden King.  He was the Duke of Austria, Styria, Carniola and Carinthia.  Material: zinc alloy Size 2.9 (height) x 4 cm Bale on the…
Collach CELTIC BOAR Bronze Pendant. Wild boar is, besides birds of prey, the most frequently depicted animal in Celtic art. This indicates that it had a special significance in society. The available archaeological and numismatic evidence also strongly suggests that boar hunts may have played…
SPARTAN SHIELD Bronze Pendant.
Material: bronze
Size: 3 cm
Aegishjalmur (Helm of Awe or Helm of Terror) is one of the Icelandic magical staves. It is believed to possess powerful qualities of protection against evil or injustice. It was used by warriors to induce fear in their enemies' hearts and to prevail in battle. Material bronze Size 2.8 cm The…
The horned Celtic God Cernunnos Medallion. The Gundestrup Cauldron from Denmark served as an inspiration for the design. Cernunnos is often portrayed with the antlers of a stag seated cross-legged, surrounded by animals and holding or wearing torcs. He was revered as a protector of animals, …
Thor's Hammer Bronze Pendant incorporates a stylized head of the God Thor and two beasts designed in the Jelling style from the Viking Age.Thor's Hammer, or Mjöllnir, is the God Thor's magical weapon. The magical hammer is unbreakable, it always hits the target and then comes back to the owner's…
Naturalistic and stylish BRONZE Norse WOLF Pendant as a symbol of strength, endurance and freedom. Material: bronze Size: 2.2 x 4 cm Weight: 14 g
Naturalistic silver pendant of a Norse wolf. Wolf symbolizes not only independence but also a life within a family or a community and the quality of being loyal. It can be interpreted as a symbol of a fight for survival and a journey of self-discovery. Material: sterling silver Size 2.2. x 4 cm …
Valknut - bronze viking pendant. The Valknut (pronounced "VAL-knoot") is one of the most widely discussed yet enigmatic of all of the Norse mythological symbols. It appears on several runestones and pictorial memorial stones from the Viking Age on the Swedish island of Gotland, as well as on…
Valknut Silver Viking Pendant. The Valknut (pronounced "VAL-knoot") is one of the most widely-discussed yet enigmatic of all of the Norse mythological symbols. It appears on several runestones and pictorial memorial stones from the Viking Age on the Swedish island of Gotland, as well as on…
Linden tree leaves crafted as a large silver pendant, the bail is hidden. The linden tree has become an official panslavic symbol at the Panslavic gathering in Prague (2.-12. 6. 1848). Material sterling silver Size 3.6 x 5 cm  Weight 10 g
A DOMOVOI (or Domowik) is a house spirit in Slavic folklore. In Slavic mythology every house is said to have its own house dwarf. The DOMOVOI is a guardian of the house and he sometimes helps with household chores or work in the garden.  He also symbolizes  prosperity. He likes to live under the…
A beautiful piece inspired by Slavic early Medieval finds of the Great Moravian Empire. Vesna is according to Slavic Mythology the Goddess of youth, life, beauty, love and the spring. Material sterling silver Size 3 x 3.7 cm, bale6 mm in diameter Weight 9 g On request we can place a gem of…
Fenrir - the Viking Wolf - is one of our most distinguished products. The design is inspired by the Borre Viking art style (named after the locality in Norway, 9th-10th century). Wolf symbolizes strength, endurance and freedom.Fenrir is the eldest son of the God Loki and the Giantess Angrboda. The…