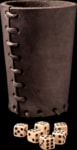 Roman board games
Ancient Roman historical board games.
Hand made Decorated Leather Cup originaly crafted for throwing dice, will be a wonderful present serving as a pencil holder, for storing small items etc. Suitable for LARP or re-enactment from ancient times up to modern day. height approx.: 9.5 cm handcrafted in the Czech Republic    
Handmade Bone Cut Gaming Dice.
Size: 1 x 1 cm
Price per one piece
dice are handmade so the size and the colour of piece may vary
Six hand forged dice and horn cup. Horn cups for dice game were used since ancient Rome period. Size aof a dice: 1.5 x 1.5 cm.
Six hand made bone dice and cup from leather. Size of the cup approx.: 9.5 cm, size of the dice approx. 10 mm. Handcrafted in the Czech Republic. Very suitable also as a present. Suitable from the ancient times till present.