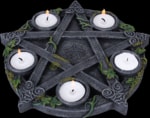 Candle holders, figures
Candle holders, figures and statues.
Wiccan Pentagram, candleholder
Beautifully hand crafted resin ornamental candle stick based on Anne Stokes dragon artwork "Dragon Beauty". 25cm approx. Material: resin. Imported from the UK.
Roman candle holder, height: 20 cm.
HERNE, statue. Imported from the UK
The TREEMAN, Triple Candle Holoder. Size circa 30 cm. Made of hardened resin.