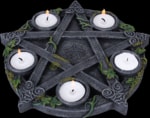 Candle holders, figures
Candle holders, figures and statues.
Pentagram Wiccan Tealight Holder. This tealight holder – available through Nemesis Now's high-quality premium wholesale collection – is perfect for illuminating your home in more ways than one. Cast in the highest quality resin before being expertly hand-painted, a central pentagram symbol…
Roman candle holder, height: 20 cm.
HERNE, statue. Imported from the UK
The TREEMAN, Triple Candle Holoder. Size circa 30 cm. Made of hardened resin.