Knives - accessories, sharpeners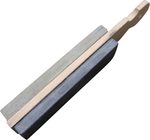 Knives - accessories, sharpeners
Knives - accessories, sharpeners, gift boxes.
Are you looking for rust protection and care for your knife? Food safe and effective? Ballistol H1 is primarily suitable for food processing industry, e.g. beverage manufacturers, butchers, bakeries, etc. Even households, which place value on a high-quality care of their domestic appliances use…
Ceramic sharpener from the legendary manufacturer of rifles, Walther, USA.
Hand made sharpening stone from a sandstone. Manufactured in the Carpathian mountains. Size: 24 cm.
Handmade Traditional Style Sharpenig Stone.
Material: granulated shale, coarse-grained sandstone, wood
Size: 2.5 x 17 cm
Sharpenig stone with two different surfaces - fine granulated shale and coarse-grained sandstone for all types of knives, daggers, seaxes etc.