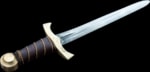 Daggers
Medieval and Renaissance Daggers. Our daggers can be divided into daggers intended for fencing, which are dull and made from quality tempered spring steel: the same kind that's used for sword blades. The other type is costume daggers (which are usually sharp or at least have a sharp point). These daggers are meant for collectors to display or as an accessory for a costume. You can order a leather sheath for your dagger, and some can be embellished with etching or engraving to customise them.
Celtic SWORD or DAGGER Reproduction with Human Body Shaped Bronze Hilt. The original artefact was discovered in 1902 at North Grimston, North Yorkshire, UK, in the grave of a Celtic warrior, along with a shield, a second sword, and a joint of pork. Material: bronze, 54SiCr6 steel Overall length:…
MORGAN Small DAGGER with Volute Decorated Pommel and Leather Handle.
material: steel, leather
length: 10 cm
Gormall Forged Sharp Celtic DAGGER with Leather Handle and Decorative Pommel. Material: 54SiCr6 high carbon steel, leather Blade: sharp
Renaissance Stiletto Dagger with Brass Handle.
Hilt: brass
Total length: 34 cm
Blade length: 25 cm
Battle ready replica of a Renaissance Dagger.  Material 54SiCr6 spring steel Hardness approx. 50-52 HRC Overall length 48 cm Sword by Wulflund
Battle Ready Renaissance Dagger Replica with Green Leather Grip. Material 54SiCr6 spring steel, leather Hardness approx. 50-52 HRC Overall length 49 cm Blade length 33 cm Guard width 14 cm Sword by Wulflund
RONDEL DAGGER, 15th Century. Inspiration: this dagger is based on an original that currently resides in the collection of the museum in The Royal Armouries, Leeds, UK.
Dagger supposedly carried by the Queen Elizabeth  for her protection, cast in brass and featuring flower shaped pommel, brown leather wrapped around its handle.
Medieval Sharp Forged Dagger in high-quality for collector's, leather grip with stamping. Material high carbon steel 54SiCr6 Overall length 46 cm Length of blade 31 cm Guard width: 15 cm
Bollock Dagger Replica from the 15th century with hand forged blade in collector's quality.
Manufactured in Arma Epona, Czech Rep.
Medieval Dagger with Leather Hilt Decorated with Stamping. material high carbon steel 54SiCr6 overall length 46 cm length of blade 31 cm guard width 15 cm
Skean Irish Fighting Long Knife inspired by an artefact recovered from the river Shannon, Ireland. Material high carbon steel, case hardened - 52 - 54 HRC Overall length 48 cm Blade length 35 cm Blade width 4 cm Weight 400 g Manufactured by Arma Epona Smithy, Czech Rep
Reproduction of Celtic Sword or Dagger with Anthropoid Hilt discovered in 1902 at North Grimston (Ryedale district, North Yorkshire, UK). The sword was found in a grave of a Celtic warrior, along with a shield, a second sword, and a joint of pork (Hull and East Riding Museum). Overall length:…
Medieval Dagger made of quality high carbon spring steel. material 54SiCr6 steel case hardened 52-53 HRC overall length 33.5 cm blade length 21 cm blunt blade, can be delivered sharp on request
Medieval Dagger made of quality high carbon spring steel. material 54SiCr6 steel case hardened to 52-53 HRC overall length 33.5 cm blade length 21 cm blunt blade, we can deliver sharp on request manufactured by Wulflund
Medieval Dagger with Pommel and Leather Hilt. high carbon spring steel 54SiCr6 case hardened to 52-53 HRC overall length 33.5 cm blade length 21 cm blade BLUNT, we can deliver SHARP on request manufactured by Wulflund
Medieval Dagger made of quality high carbon spring steel. material 54SiCr6 steel case hardened 52-53 HRC overall length 33.5 cm blade 21 cm blade is blunt, we can deliver sharp on request manufactured by Wulflund
Medieval Dagger made of quality high carbon spring steel. Material: 54SiCr6 steel Case hardened: 52-53 HRC Overall length: 33.5 cm Blade length: 21 cm Blade is blunt, we can deliver sharp on request Manufactured by Wulflund
Medieval Dagger made of quality high carbon spring steel. Material: 54SiCr6 steel Case hardened: 52-53 HRC Overall length: 33.5 cm Blade length: 21 cm Blade is blunt, we can deliver sharp on request Manufactured by Wulflund
Medieval Dagger with Pommel and Leather Hilt. material high carbon spring steel 54SiCr6, leather case hardened to 52-53 HRC overall length 33.5 cm blade 21 cm BLUNT blade, we can deliver SHARP on request manufactured by Wulflund