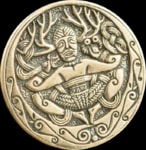 Celtic pendants
Celtic amulets and talismans. Have you heard about the Cernunnos, the triquetra, triskele, Green Man, and the Celtic knots?
In the past, the Celts occupied a wide swath of Europe, and we believe that a drop of Celtic blood is still in each of us. We express our admiration for their cultural wealth with a wide selection of Celtic jewellry. Their designs are inspired by archaeological findings and our own imagination.
Cernunn (Kernunn, Cernunnos), God of the Forest, guardian and the guide to the other world. Cernunn is commonly pictured with stag antlers and sitting in the lotus position. Material tin alloy (pewter) Size 4.5 x 6 cm
Tree of life double sided pendant. The Tree of Life and trees in general carry a deep sacred meaning in many world religions and mythologies. Human beings, observing the growth and death of trees, and the annual death and revival of their blooms and foliage, have often seen them as powerful…
Triskelion represents the never ending cycle of everything that flows without the beginning or the end. It is meant to protect the wearer from evil, to help fulfill ones wishes, to provide energy, confidence and to develop creativity. Material: tin alloy with a thin layer of antimony, patinated …
Stylized CELTIC KNOT AMULET. Snakes represent diferent things to different people. For shedding its skin it can symbolize rebirth, in some cultures, the snakes are considered sacred beings and often seen as the symbols of knowledge. Material: tin alloy covered with a thin layer of antimony,…
A double sided pendant of Epona, a Celtic Goddess of Fertility, who was the protector of horses. In central Europe she is known under the name of Kotys. There is a rocky hill of the same name in the Bohemian Karst region (Český kras) west of Prague (previously La Tene oppidum). It is believed that…
Pendant of a Celtic deer. Hidden bale.
Material tin alloy
Size 3.2 x 4 cm
Forged Celtic Triquetra.
Material: steel
Anti-rust coating
Height: 4.1 cm
Cernunn (Kernunn, Cernunnos), Lord of the Animals and the Guardian of the doorway between the natural kingdom and the Celtic Otherworld. This motive is inspired by the Gundestrup Cauldron which was retrieved from a bog in Jutland, Denmark. Material tin alloy (pewter) Size 4.5 x 6 cm
Green Man - pendant. Hidden bale. Model for this jewel was hand made by wax. Is our civilization still able to see these Spirits of Nature? Green Man is as old as humankind, he didn't dissapear in the past and now he is strong again. Designed by Kati. Material tin alloy Size 2.5 x 4 cm …
Bronze pendant of a Celtic deer. Hidden bale.
Material bronze
Size 3.2 x 3.7 cm
A medallion depicting the horned Celtic God Cernunnos. The Gundestrup Cauldron from Denmark served as an inspiration for the design. Cernunnos is often portrayed with the antlers of a stag seated cross-legged, surrounded by animals and holding or wearing torcs. He was revered as a protector…
Corvus Raven Carved Bone Pendant. Ravens, black phantoms of the sky, have alway played a prominent role in many European cultures and mythologies. In Norse mythology, Huginn (Thought) and Muninn (Memory) are ravens that soar all over the world and bring information to the God Odin. According to…
Scottish thistle as a national symbol of Alba (Scotland). Second only to tartan, nothing quite says 'Scotland' like this humble, prickly weed. A legend has it a sleeping party of Scotish warriors were saved from ambush by an invading Norse army when one of the enemies trod on the spiky …
Collach CELTIC BOAR Bronze Pendant. Wild boar is, besides birds of prey, the most frequently depicted animal in Celtic art. This indicates that it had a special significance in society. The available archaeological and numismatic evidence also strongly suggests that boar hunts may have…
Embossed Leather Keychain.
Material: dyed cowhide
Height: 8 cm
Embossed Leather Keychain.
Material: dyed cowhide
Height: 8 cm
Embossed Leather Keychain.
Material: dyed cowhide
Height: 8 cm
Embossed Leather Keychain.
Material: dyed cowhide
Height: 8 cm
Draig Celtic Dragon Leather and Pewter Bracelet, named after the Welsh expresion for dragon.
Material silver plated pewter, leather
Nickel free
Celtic Boar Leather Bracelet with Pewter Terminals. Wild boar is, besides birds of prey, the most frequently depicted animal in Celtic art. This indicates that it had a special significance in society. The available archaeological and numismatic evidence also strongly suggests that boar…