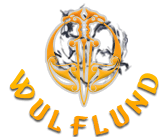 brooches and buckles, silver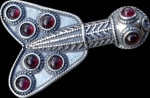 Brooches and buckles, silver
SILVER MEDIEVAL Belt BUCKLE for Re-enactment, a more luxurious alternative to plain metal alloy historical buckles. Material: sterling silver Size: 3 x 3.5 cm For belts of width: 1.5 cm Weight: 10 g
Viking buckle.
Weight approx. 9g
Size: 2.9x3 cm
Material: 925 silver
Viking buckle.
Weight approx. 5g
Size: 2.6x1.9 cm
Material: 925 silver
MEDIEVAL BUCKLE.
Dimensions: 26 x 35mm
Material: 925 silver
Weight approx. 10g
Cernunnos - horned Celtic God. This silver concho is inspired by the Gundestrup Cauldron from Denmark. Cernunnos is a mighty Celtic God of the forests and the otherworld. Designed by V. González exclusively for Wulflund. Material sterling silver Weight 19g of silver(!) Diameter 3.5cm Hidden bale 4…
Small Silver Sun Brooch inspired by Hallstatt brooches. material sterling silver diameter 2.7 cm for approx. 1 cm of fabric to fasten onto needle is not suitable for fine fabric
Sun Cross Silver Brooch with the Sun symbol, which was in the current day Czech Rep. first documented on an artefact dating back to 6.000 BCE, later it appeared on the Hallstatt culture artefacts and it was used by Celtic, Germanic and Slavic craftspeople and artists. material sterling silver,…
Merovingian Silver and Garnet Cicada Brooch, beautiful and accurate replica of a silver brooch dating back to the 5th century. Merovingians were a Frankish dynasty that ruled the Franks for nearly 300 years in a region known in Latin as Francia, beginning in the middle of the 5th century. They…
Exclusive replica of Viking Turtle Brooch according to a find in Hedeby, Germany. The model for casting was made by original methods of filigree and granulation. Material: sterling silver Lenght: 77 mm Width: 55 mm Height: 25 mm Price is for pair Made by Wulflund
Unique replica of a viking silver brooch (swastika). We used filigree and granulation techniques to make a master model for this brooch. Material sterling silver Size 3.2 cm Weight 14 g
Lion's brooch with a pin. Symbol of double-tailed lion is an old heraldic symbol of Bohemia and the Czech state. Material sterling silver Size 3.5 x 3.8 cm Weight 8.5 g
Scythian Deer Brooch Replica. The original comes from the 7th century BCE; it was a gold plaque, that was found in the Kuban basin, Rusia, an area where the best works of Scythian art have been discovered. The Scythians used to live in the steepes of southern part of Russia. Material sterling…
Replica of a viking buckle. Style Borre, Norway.
Size cca 2 x 3 cm
Sterling silver
Weight: 8g