CLOTHING - Military, Law Enforcement and Outdoor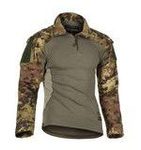 CLOTHING - Military, Law Enforcement and Outdoor
Clothing from leading brands - military, outdoor. Shirts, ponchos, jackets, blouses, sweatshirts, underwear, pants, shorts, combat trousers, caps, hats, balaclavas.
Inspired by the popularity of the Mk.II Instructor Shirt, the long sleeve version was developed as an extremely versatile shirt, which is worn primarily on the shooting range and for instruction services. Due to its versatility, it is also suitable for a variety of other tasks, including light…
Wool Blend Trapper Hat Brown Check.
Acrylic fur
Polyester lining
Under chin buckle
Material: 100% polyamid ripstop
JTG - Ukraine Flag Patch, fullcolor "Ready to patch", JTG - Ukraine Flag Patch with velcro backside. size: 75 x 62mm Specially manufactured top quality flexible PVC patch in 3D. Molded contour for shape Velcro hook side backing is stitched onto PVC for high durability and years of use Perfect to…
PVC Patch with Hook Adhesive Backing, plus additional Loop in the shape of the patch Ready to patch and enjoy. size: have a look on the picture for the size information. Specially manufactured flexible PVC patch in 3D. Molded contour for shape. Velcro hook side backing is stitched onto PVC for high…
Weardale Knitted Jacket Brown by Jack Pyke of England Softshell contrast panels Full length front zip with double pullers Two lower zipped pockets Zipped chest pocket Elasticated cuffs Chin guard 100% polyester knitted fleece
Lightweight Mesh Balaclava - oak camo.
Face veil can be worn up or down
One size fits all
T-Shirt by Jack pyke of England.
100 % POLYESTER
FAST WICKING MESH FABRIC
COLOUR: ENGLISH OAK EVO
Rubber patch.
Size: 6.5 x 7.0 cm
3D
Velcro
Rubber patch.
Size: 2.8 x 5.0 cm
3D
Velcro
Rainproof, quick-drying poncho, made of rip-stop polyester. It has press studs which enable to make sleeves or connecting two ponchos together. The hood is fitted with a cord adjuster. The great advantage of this poncho is its light weight and small size when folded – when compressed, the poncho…
Carbon Fibre Knuckle Casing
Textured Grip Panels
Inner Fleece Lining
Vented Palm and Knuckle
Velcro Closure
Neoprene outer
The Operator Combat pant sets the focus on its fit and versatility. In comparison to the Raider MK.IV pant it is being reduced to the essentials of a mission pant. It features the proven waist adjustment system with elastic components for better comfort and absorption of body movements. The…
Tactical T-Shirt by Invader Gear. 80% cotton, 20% Polyester Invader Gear has been founded in 2004 and has ever focussed on equipment offering an outstanding price / performance ratio. The brand mainly offers a large selection of tactical clothing in modern designs in a wide range of different…
All reinforcements are made of neoprene and thermoplastic rubber for impact and abrasion protection.
Adjustable baseball cap equipped with a set of soft Velcro panels for ID/morale patches and other items. Intended for use in hot weather conditions. Mid-depth cut works with variety of LE/Mil headgear systems. Velcro panels dimensions: FRONT: 7 x 4 cm TOP: 6 x 5,5 cm REAR: 4,5 x 4 cm Adjustment…
Tactical Baseball Cap Black
Adjustable baseball cap equipped with a set of soft Velcro panels for ID/morale patches and other items. Intended for use in hot weather conditions. Mid-depth cut works with variety of LE/Mil headgear systems. Velcro panels dimensions: FRONT: 7 x 4 cm TOP: 6 x 5,5 cm REAR: 4,5 x 4 cm Adjustment…