tools - shovels, saws, axes, whistles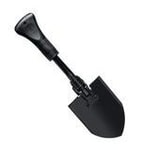 Tools - shovels, saws, axes, whistles
Tools - shovels, saws for outdoor and military.
Splitting Maul with a wooden handle (hickory).
Weight: 3kg
Length: 90 cm
Estwing's Special Edition Sportsman's Axe is a solid steel, axe with a non-reflective matte black finish. The grip is a beautiful genuine leather. Solid America Steel Hand Sharpened Edge 3.25" edge 13" length Matte black finish on face and neck Genuine Leather Grip Black Nylon Sheath Included Size…
Smith & Wesson Universal Armorer Tool in black aluminum casing, featuring: 1/16″ Allen Wrench, 1/16″ Roll Tip Punch Pin, 1/8″ Roll Tip Punch Pin, 1/16″ Flat Tip Punch Pin, 1/8″ Flat Tip Punch Pin, M&P Slave Pin, 1/8″ Solid Punch Pin, 1/8″ Brass Flat Tip Punch Pin, 1/8″ Brass Roll TIp …
7 in 1 Outdoor Emergency Survival Whistle, includes compass, thermometer, magnifying glass, mirror, small LED light and small storage compartment. material ABS length 9.8 cm diameter 3 cm weight 58 g
Special Operations Carabina in green colour by Viper Tactical.
3 way Molle attachment
Material ABS
Price per pair
Tactical Whistle by Viper Tactical.
Material ABS
lightweight and minimal size
with bungee cord
The Gerber Tactical Downrange Tomahawk is a marvel of simplicity and efficiency in service of solving serious problems. It's just a well thought-out design and centuries of Gerber craftsmanship in your hands without extraneous gadgets to get in the way.Triple-Purpose Axe HeadThere's no arguing…
Tomahawk Spike Hawk by Cold Steel.
REXIT, the rapid entry and exit tool. A forged breaching tool designed by professionals for professionals. Police, SWAT and firemen who need an all in one tool for forced entry/exit tool that they can depend on, need the REXIT. It comes in tactical powder coated matte black or fire engine red.…
SURE SPLIT® WEDGE. This unique 5 lb wedge has a revolutionary concept in design which makes splitting wood fast and easy. This wedge has a fast taper head for easy starting. The Sure Split® fins permit extra wedge action and the sledge will continue through out below the wood line for sure…
AXES / OUTDOOR FIRESIDE FRIEND® SPLITTING TOOL. Estwing's Fireside Friend® Splitting Tool is forged in one piece. The handle length and weight give leverage and power for easy wood splitting. Item Number: E3-FF4 Overall Length: 14" / 356 mm Cutting Edge: 2-3/8" / 60 mm
An axe suitable for small-scale felling, made from blasted and clear-lacquered ironwork. The shaft is curved and made from hickory. The axe is hand-forged and made from Swedish axe steel using traditional methods in use since 1697. The steel is stuck several times, increasing its density and…
An axe suitable for small-scale felling, made from blasted and clear-lacquered ironwork. The shaft is curved and made from hickory. The axe is hand-forged and made from Swedish axe steel using traditional methods in use since 1697. The steel is stuck several times, increasing its density and…
Our most powerful and heaviest splitting axe, made from blasted and clear-lacquered ironwork. Has a tempered striking face at the back of its head and can therefore also be used as a sledge. NOTE: never strike the tempered striking face against other tempered objects. The shaft is straight and…
An axe suitable for small-scale felling, made from blasted and clear-lacquered ironwork. Particularly suitable for lopping branches or clearing bushes and brushwood.The axe is hand-forged and made from Swedish axe steel using traditional methods in use since 1697. The steel is stuck several…
An axe suitable for small-scale felling, made from blasted and clear-lacquered ironwork. The axe is hand-forged and made from Swedish axe steel using traditional methods in use since 1697. The shaft is curved and made from hickory. Particularly suitable for lopping branches or clearing bushes and…
A small axe for outdoor use or in the garden. Made from blasted and clear-lacquered Swedish steel. Small curved shaft is treated with linseed oil. Material: Swedish steel, shaft: hickory Clear tempered zone which can be sharpened Weight: 800g Length of the wooden shaft: 440 mm Made in Sweden…
Leather Black Eagle Tomahawk Axe is designed for sportsmen and military professionals. The lightweight design makes it easy to carry. The Black Eagle Tomahawk is perfectly balanced and weighted, and made to last, with a genuine leather grip. American forged in one piece out of genuine American…
Handy pocket-sized saw in the form of braided steel wire. Two o-rings serve as handles. Cuts wood, metal, plastic, ice and other materials.  Features: Made of stainless steel Length: 50 cm
The Gorge Folding Shovel features a fast and smooth push-button collapsible handle and a glass-filled nylon shaft with rubberized overgrip. The spade folds back, revealing a textured head to be used as a hammer for pounding in tent stakes. The Gorge is lightweight and packable for back-country…