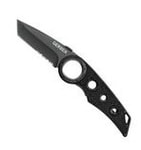 Tactical Gear
Tactical Equipment - pouches, tactical vests, combat glasses, hearing protection, gloves, knee pads, flashlights, headlamps, helmets, combat belts, plate carriers and more.
Knife in a Japanese style KIRIDASHI with wood.
Handle: wood
Overall length: 20.2 cm
Blade: 6 cm
Thickness of the blade: 5 mm
Manufacturer: Arma Epona smithy
ALASKA Bowie Knife. Overall length: 28 cm Blade length: 16 cm Blade width: 4.2 cm Material: steel K720
MINI JAPANESE TANTO POINT
Weight: 3.3 oz
Blade Thickness: 3mm
Handle Length/Material:3 3/8in Long Kray-Ex™Handle
Blade Steel: 8Cr13MoV Stainless Steel
Blade Length: 3 1/4in
Overall Length:6 5/8in
The blade is made of D2 steel, heat treated to 59HRC. The surface is Acid stonewash (etched and stonewash).
Overall length: 22 cm
Blade length: 8.6 cm
Blade width: 3.1 cm
Clawgear's nylon equipment is designed to increase the operator's performance and fightability. These products are optimized to be as versatile and lightweight as possible, the use of proprietary Tacticoat and Tacticoat Reinforced materials same time massively increases the durability and lifetime.…
Bear Claw Emergency & Rescue by CRKT Blade length: 70 mm Handle length: 75 mm Total length: 145 mm Weight: 90 g Established in 1994 CRKT® (Columbia River Knife and Tool®) from the beginning was putting innovation and reliability at first. Thanks to a collaboration with the best designers in…
Knife EF713 Fixed Blade Elite Force.
Sheath included
Blade length: 115 mm
Handle length: 135 mm
Total length: 227 mm
Weight: 210 g
SBT Stop Bleeding Touriquet
Knife Evo Mid Folder Gerber. Blade length: 80 mm Handle length: 103 mm Total length: 183 mm Weight: 70 g About Gerber:  Established in 1939 in Portland, Oregon, USA, Gerber is an American focusing to give hunters, soldiers, survivalist and tradesmen the tool they need. All their products are…
Top made of non woven material.
Rubber backing, prevents leaking
Non slip
Jack Pyke logo in the middle
Size: 90cm x 30cm (approx.)
Colour: Green
37.5 x 132cm (14.75" x 52"), 3mm thick universal firearm cleaning mat Large surface area accommodates cleaning of multiple firearms simultaneously Perfect maintenance accessory for all firearms, from pocket pistols to oversize .50 caliber rifles Easy to store and deploy in seconds Durable…
Jack Pyke sprung pegs are designed to work with suitable decoys and mimic natural pecking movements. Adjusting the spring for wind conditions allows the decoy to act as naturally as possible. Comes in pack of 12
Colour: Grey
Weight: 110g
Length: 34cm
Double Spinner Target. Size: 38 x 26cm.
Military Pouch UNI vz. 95 molle 13 x 16 cm
Paracord Type III 550 15m.
Light Stick Holder MOLLE by Emerson.
Stainless Steel With Black Finish
Stainless Camo Handle
Lock Knife
Locking Blade
Belt Clip
Stainless Camo Handle
Blade Length 7.5cm (3")
One Nylon Sheath Per Set
Jack Pyke of England
Cordura pouch in Czech vz95 camouflage.