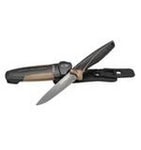 Knives - outdoor, survival
Knives and multitools for outdoor, survival and Swiss folding knives. Leading brands: Gerber, Victorinox, Mikov.
The modern version of the traditional jungle tribesmen's machete, the Broadcut Machete is as effective as the name suggests. The heavy fine edge blade is corrosion resistant and makes short work of dense brush. An innovative hook + cut notch is engineered into the blade, an ideal tool for…
SOG key knife
Blade length: 41 mm
Handle length: 68 mm
Total length: 109 mm
Weight: 22 g
Gerber questioned hardcore anglers from across the nation, filtering that feedback into the design of one seriously inspired fillet knife: the Controller. Across different locations and species, one point rang true: an insightful fish fillet knife can make short work of messy business. No matter if…
The Walther MachTac 4 - a top class bush knife is delivered including a nylon sheath with a belt loop. Product features: Compact and handy machete Matte black coated tanto blade Rubberized polymer handle Technical specifications: Blade material 440 Locking fixed Blade shape machete Handle…
Perhaps the most simply designed tool in your arsenal, this key chain companion should not be underestimated. With 7 essentials functions built in, this airline-safe tool is ideal for everyday travel and tasks. A titanium nitride coating protects against corrosion for long use. Features 7 Functions…
The new World Legal Urban Tactical Knife was developed with one goal in mind, make a great knife that anyone can carry, anywhere in the world. World Legal Knife Balancing form with function, the World Legal was born from one idea: make a great knife that can be carried anywhere in the world.*…
Gerber Knives offers this special combo pack with both a Paraframe I folder and the smaller Mini Paraframe knife. The larger knife has a combo edge clip point blade, while the smaller has a plain edge clip point blade. Both finished with a Mossy Oak pattern handle. Features: Paraframe I Overall…
With a full tang, 420HC steel blade and rubberized diamond-texture grip, this is a knife you can rely on. The MOLLE-compatible multi-mount sheath system offers optimal customization, keeping your knife ever at the ready in combat situations. Plain edge, full tang 420HC steel blade Ceramic blade…
Magnum Caveman Damascus knife.
Material of the blade: Damascus steel
Material of the handle: wood
Overall length: 19.4 cm
Blade: 8.2 cm
Width of the blade: 2.7 cm
Weight: 209 g
Knife developed and adapted to meet the needs of craftsmen, with a blade made from stainless Japanese knife steel. The holster can be attached to both a belt and a button on your work clothes. If your belt is thick, cut away the small pin on the cover. It features a unique function for…
Our all-round knives include everything from ergonomically designed knives for professionals to simpler utility knives. No matter your preference, the knife you choose will maintain its consistency, high-level quality, be sharp, and have maximum edge lifetime. With a blade of carbon steel and…
The Bear Grylls Compact Parang is a modern version of the traditional jungle tribesmen's machete in a convenient size. Its blade makes short work of branches and vines. This Parang features an angled blade, ideal for clearing brush or limbs. Robust high carbon steel blade, enhances strength,…
The Gerber Bear Grylls Compact Multi-Tool is the only compact tool that features two full-size Gerber Legendary Blades. The Gerber Multi-Tool features 10 components, each of which are designed to help you with chores, both indoor and outdoor. It is a heavy-duty tool that features needle nose pliers…
The ultimate multitool is part of the Gerber Bear Grylls Survival Series of gear. This collaboration brings together Gerber's 70-plus years of knife and gear expertise with Bear Grylls' extensive outdoor survival and adventure experience to create a one-of-a-kind line of knives, tools, and gear. …
The Gerber Machete Junior is easy to carry given its compact and light weight design. Small enough to fit inside a backpack. 18.75 inch total length. The Gator Machete sports our proprietary Gator rubber grip for ergonomic control while using either the fine edge blade on one side, or the saw on…
Gerber Gator Bush Machete Built with full tang construction, the Bush is Gerber's version of the classic multi-purpose design. The Gator Bush Machete's sturdy handle wrapped in the classic Gerber Gator Grip keeps it snug in your hand while being leveled at underbrush. This knife expertly helps you…
Gerber hunting knife Myth Compact Fixed. Technical data: Total length: 18.4 cm, blade length: 8,3 cm, weight: 28g.
Gerber knows being prepared isn't a state of being so much as a philosophy. Which is why having the right tool on hand is about little things that make the difference. Sometimes the job's as simple as cutting twine or slicing open a box, but try those things without a blade enough times and you'll…
The Freescape Folding Sheath Knife isn't just a great camping blade. It features a safety that allows the user to lock the knife closed when not in use, keeping little fingers from harm and also functioning as a secondary lock to keep the blade open for safe operation. This singular safety…
Gerber Gator Kukri. Not everyone needs a machete, but if you do, you need it for a reason. Designed for utility, the Gerber Gator Kukri is based on a traditional tool of Central Asia, with subtle updates for modern use, including an ergonomic handle shape, slip-proof grip, and hefty full tang…