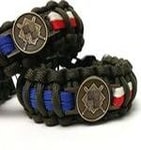 Survival
Your survival and bushcraft essentials - folding pocket knives, first aid kits, paracord bracelets, saws, pliers, outdoor tools, shelters, navigation, fire starters.
Historical fire steel with a bronze lion. The fire steel is fully functional and made by Arma Epona forge.
Dimensions: 3.5 x 8.2 cm
Material: steel and bronze - lost wax casting
Hardened spring steel machete made by Arma Epona forge.
Overall length: 65 cm
Blade length: 50 cm
Blade width: 4 cm
Material thickness: 4 mm
Pair steel ČSN 14 260 (54SiCr6)
This all-purpose machete has multiple uses: chop, gather + cut, dig, and sharpen Superior steel provides enhanced strength, corrosion resistance, and ease of sharpening  Gator Grip handle texture provides maximum grip for any situation, wet or dry   A lanyard acts as a restraint against hand…
PENNSYLVANIA Bowie Knife. Overall length: 28 cm Blade length: 16 cm Blade width: 4.2 cm Material: steel K720 Handle: rosewood santos
The blade is made of D2 steel, heat treated to 59HRC. The surface is Acid stonewash (etched and stonewash).
Overall length: 22 cm
Blade length: 8.6 cm
Blade width: 3.1 cm
The Cold Steel Kukri Plus Machete features the same wide, curved blade that makes our Kukris capable of delivering the kind of performance thats the envy of many swords or bushcraft tools, but with the addition of an integral solid steel guard for added protection and safety. Its full tang is…
 The Cold Steel Trench Hawk features a sharp cutting edge and wedge-style spike, offering numerous tactical options for our nations modern warriors. Drop forged from 5150 carbon steel and differentially hardened, the head of the Trench Hawk will withstand tremendous blows as well as the awful…
It's a bottle opener with about nine other tools. At least, that's one way to look at it! These pocket-sized pliers pack multiple functions into a tiny package that fits on a keychain. The Vise gives you more than plier capabilities thanks to a variety of handy tools. Strong mini-pliers Keychain…
Walther MTK 2 440C Stainless The Multi Tac Knife is a toolbox that fits in your pocket. With the holster you can also carry it on your belt. Thanks to its versatile tools, which include a pliers and bit holder, it is one of the best-selling Walther knives. The design of the handle has been improved…
A serious tool: With its ergonomic form and rugged design this utility knife makes a strong impression. The one-hand opening folder with a linerlock and dual thumbstuds comes with a titanium gray coated tanto blade and partial serration. The Swedish 12C27 special steel ensures a high edge retention…
Practical from end to end: This small version of the OSK is designed explicitly for work outdoors. The massive blade, made of black coated 440A stainless steel and with a special grind has a 5-cm-long groove on the cutting edge, making it easy with a second hand close to the point to shave bark…
Blade length: 65 mm
Handle length: 100 mm
Total length: 165 mm
Weight: 110 g
Walther Emergency Rescue Knives are carefully designed tools that can save lives. Their 440 stainless steel blades have a black coating and a partial serration on the rear third for cutting cords, webbing and belts. The Walther ERK has a linerlock mechanism. In addition to the rubber inlays each…
This folder is designed for professional rescue personnel. The thumb disc and the nail grooves allow it to be opened even with a wet or gloved hand. A flipper provides opening assistance and protects the index finger when the blade is open. The 90 mm long titanium gray coated droppoint blade is…
Tactical Tomahawk CEROS was developed by Arma Epona smithy.
Material: high carbon steel 54SiCr6
Size: 18 x 30 cm
Head of the axe: 10 cm
Hardness: 52 - 54 HRC
RIGGER'S AXE VINYL GRIP 1050 g Estwing USA.
Shock Reduction Grip
Length: 425 mm
Made in the USA using the finest American tool steel.
Estwing
Compact and easy to handle. Blade with matt coating Top heavy weight distribution Lanyard eyelet Nylon holster included TECHNICAL DATA Blade material 440 C Grip Material synthetic Blade form Normal blade Blade Length 70 mm Length 228 mm Weight 280 g      
Tactical tomahawk RHINOS was developed by Arma Epona smithy. Material: high carbon steel 54SiCr6 Size: 18 x 30 cm Head of the axe: 10 cm Hardness: 52 - 54 HRC Axe is without any other handle and you can finish it by yourself (wood, micarta or paracord).
Featuring an innovative easily-removed sheath that maintains a slim profile, the 17.5" Freescape Hatchet serves well in its capacity as a rough, ready, and clever tool in the Gerber Freescape series. TACKLE ANY CAMPSITE DUTYWith a forged steel head that's world class in strength, and a design that…
The modern version of the traditional jungle tribesmen's machete, the Broadcut Machete is as effective as the name suggests. The heavy fine edge blade is corrosion resistant and makes short work of dense brush. An innovative hook + cut notch is engineered into the blade, an ideal tool for…