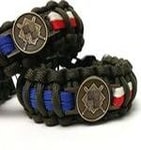 Survival
Your survival and bushcraft essentials - folding pocket knives, first aid kits, paracord bracelets, saws, pliers, outdoor tools, shelters, navigation, fire starters.
Sada na přežití od britské společnosti Viper obsahuje: Vnitřní zrcátko Nůž Drátová pila Kompas Ocílka na oheň Šití Zápalky Vlna Svíčku Píšťalka Drát pro nástrahy Rybářské náčiní Tvrdá krabička o rozměrech 12 x 10 x 4cm
Military Lighter - Clawgear, Austria. Windproof Jet Flame Adjustable micro burner up to 1300°C Piezo ignition Gas-refillable Non-reflective Soft grip surface Quiet open / close securecap Lightweight
Láhev od americké značky Nalgene.
Objem: 1 litr
Váha: 180 g
Treated wood shavings that will catch a spark. The natural way to start a fire
By Web-Tex, United Kingdom
Splitting Maul with a wooden handle (hickory).
Weight: 3kg
Length: 90 cm
Intended use: military / sports
Blade: 1095 carbon steel - HRC 56-58
Treatment Blade: Teflon
Handle: Kraton ® GBlade
Blade Thickness: 4mm
Total length: 430mm.
Weight: 600g.
Sheath: tactical leather and Cordura
Perhaps the most simply designed tool in your arsenal, this key chain companion should not be underestimated. With 7 essentials functions built in, this airline-safe tool is ideal for everyday travel and tasks. A titanium nitride coating protects against corrosion for long use. Features 7 Functions…
The new World Legal Urban Tactical Knife was developed with one goal in mind, make a great knife that anyone can carry, anywhere in the world. World Legal Knife Balancing form with function, the World Legal was born from one idea: make a great knife that can be carried anywhere in the world.*…
Gerber Knives offers this special combo pack with both a Paraframe I folder and the smaller Mini Paraframe knife. The larger knife has a combo edge clip point blade, while the smaller has a plain edge clip point blade. Both finished with a Mossy Oak pattern handle. Features: Paraframe I Overall…
With a full tang, 420HC steel blade and rubberized diamond-texture grip, this is a knife you can rely on. The MOLLE-compatible multi-mount sheath system offers optimal customization, keeping your knife ever at the ready in combat situations. Plain edge, full tang 420HC steel blade Ceramic blade…
Estwing's Special Edition Sportsman's Axe is a solid steel, axe with a non-reflective matte black finish. The grip is a beautiful genuine leather. Solid America Steel Hand Sharpened Edge 3.25" edge 13" length Matte black finish on face and neck Genuine Leather Grip Black Nylon Sheath Included Size…
Schrade SCAXE10 Camp Full Tang HATCHET with Stainless Steel Blade and TPR Handle for Outdoor Survival Camping and Everyday Tasks. material 3Cr13 stainless steel blade, termoplastic rubber wrapped handle overall length 28.1 cm (11.1 in) blade length 9 cm (3.6 in) weight 690 g (1 lb 5.9 oz) …
Smith & Wesson Universal Armorer Tool in black aluminum casing, featuring: 1/16″ Allen Wrench, 1/16″ Roll Tip Punch Pin, 1/8″ Roll Tip Punch Pin, 1/16″ Flat Tip Punch Pin, 1/8″ Flat Tip Punch Pin, M&P Slave Pin, 1/8″ Solid Punch Pin, 1/8″ Brass Flat Tip Punch Pin, 1/8″ Brass Roll TIp …
Stainless steel flask with vacuum insulated walls by Jack Pyke of England.
press button pourer
volume 750 ml
Stainless steel hip flask by Jack Pyke of England. volume 118 ml height 10.5 cm screw top
Stainless steel hip flask by Jack Pyke of England.
volume 8 oz/235 ml
height 14.5 cm
screw top
The Viper Tactical MOLLE torch will fit inside the horizontal webbing on most MOLLE and Viper Modular Sysems. body made in lightweight Aluminium with rear metal clip takes just 1 x AA battery (not included) weight: 50 g brightness: 1 watt size: 8.5 x 2 cm
FIXIR Hunting Pocket Knife with backlock in leather sheath, delivered in a paper gift box.  material: blade - stainless steel 440A, HRc 56, handle - antler imitation manufacturer Mikov s.r.o., Czech Republic
FIXIR Hunting Pocket Knife with saw, bottle opener and backlock, delivered in leather sheath and paper gift box.  material: blade - stainless steel 440A, HRc 56, handle - antler imitation manufacturer Mikov s.r.o., Czech Republic
FIXIR Hunting Pocket Knife with saw, bottle and can openers and backlock, delivered in leather sheath and paper gift box.  material: blade - stainless steel 440A, HRc 56, handle - antler imitation bottler opener can be used as flat screw driver manufacturer Mikov s.r.o., Czech Republic