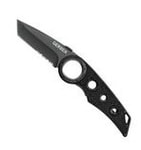 Blades - Tactical
Knives and Axes - tactical/combat bladeware for MIL/LE and other tactical applications.
GET READY AND SURVIVE! This unique Gerber kit will surely be the perfect helper in your struggle for survival. The Gator Bolo machete , the Gerber Fire starter, and the Gator EAB hand saw with the stylish Airlift Black fastener create four tools to conquer almost every obstacle. You cut your way,…
Stainless Steel With Black Finish
Stainless Camo Handle
Lock Knife
Locking Blade
Belt Clip
Stainless Camo Handle
Blade Length 7.5cm (3")
One Nylon Sheath Per Set
Jack Pyke of England
Böker - Magnum Survivalist
 Weight knife: 440 g
 Total lenght: 345 mm
Blade lenght: 200 mm
Blade width: 4,6 mm
Steel: Fixed
Hardness: 56-58 HRC
Handle: Aluminium
Sheath: Nylon
Knife in a Japanese style KIRIDASHI with wood.
Handle: wood
Overall length: 20.2 cm
Blade: 6 cm
Thickness of the blade: 5 mm
Manufacturer: Arma Epona smithy
Knife in a Japanese style KIRIDASHI with micarta.
Handle: micarta
Overall length: 20.2 cm
Blade: 6 cm
Thickness of the blade: 5 mm
Manufacturer: Arma Epona smithy
Upon popular request, the popular rescue knife is now offered also in a version for two-hand-opening, with a nail nick instead of a thumb stud. The 440A steel blade, the liner lock, the glass breaker, and the belt cutter are of course part of the equipment. With clip. Type: Pocket Knife Total…
Not only for bikers! This technically attractive knife resembles motorcycle parts. The blade spine is stylistically represented by a motor cycle chain and gives a very comfortable grip. The grey blasted 440 stainless steel blade can be opened with help of thumb lifter or flipper. A linerlock holds …
This spring-assisted pocket knife was undoubtedly inspired by the classical Italian style. The sturdy modern interpretation combines the advantages of modern manufacturing with classical design. The blade of 440 stainless steel is securely locked by the liner lock. The massive and finely…
This is a modern interpretation of the classic Scottish stocking knife. Handle Material: Micarta Blade Material: 440 Stainless Steel Blade Length (cm): 11.8 Blade Thickness (cm): 0.44 Overall Length (cm): 22.8 Blade Type: Plain Sheath: Leather Product Weight (g): 176
Magnum Firefighter knife.
Overall length: 20.8 cm
Blade: 9 cm
Width of the blade: 3.3 cm
Weight: 249 g
Material of the blade: 440-A
Material of the handle: G-10
Magnum BLACK SPEAR knife by Böker, Germany. This tactical tool will handle all missions! Modified 440 Spear Blade with Effective Particulate Edge for Gross Handling. Linerlock provides the necessary security. More distinctive finger grooves on black aluminium grips are for a high level of safety…
Due to its special construction of the blade bearing, this extravagant knife has a very individual appearance. The strong 440 stainless steel blade rotates around the extremely stable bearing and is securely locked by the liner lock mechanism. The excellent grip is guaranteed by the stainless…
Böker Plus Strike Tanto - knife.
Material of the blade: AUS-8
Material of the handle: aluminium
Overall length: 20.1 cm
Blade: 8.5 cm
Width of the blade: 3 cm
Weight: 190 g
UTON - Army Knife. Material: Stainless steel 420 - 55HRC. Handle: hardened rubber. Length: 250 mm. Blade length: 140 mm. Blade width: 24 mm. Product weight: 244 g.
KNIFE, Squid Black Stonewash, CRKT. Blade length: 55 mm. Handle length: 90 mm. Total length: 145 mm. Weight: 100 g.
KNIFE, M16-01OS SS EDC Folder, CRKT (Columbia River Knife and Tool, USA). Blade length: 80 mmHandle length: 100 mmTotal length: 180 mmShipping weight: 100 ghttps://www.youtube.com/watch?v=XaCrsf3TZIc
Knife made by Smith & Wesson.
Blade length: 110 mm
Handle length: 140 mm
Total length: 250 mm
Weight: 250 g
Shipping weight: 260 g
Blade length: 170 mm
Handle length: 130 mm
Total length: 300 mm
Weight: 110 g
Shipping weight: 120 g
The SEAL Team series carries on the proud tradition of quality and service renowned in the original SOG SEAL Knife 2000. The SEAL Knife surpassed one of the most extensive testing and evaluation programs ever undertaken by the U.S. Government.  For those who want all of the benefits of the original…
The Spyderco Assist Black Blade is a lightweight folder for emergency fire/rescue professionals and the well-equipped citizen who rely on knives to be straightforward in use and perform flawlessly.  The blade is coated in non-reflective black carbon nitride with a patented lift-and-pry (blunt-nose)…